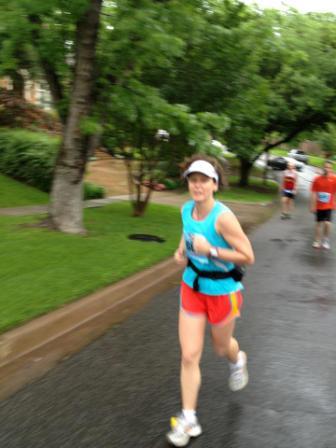 Expert


1532




Grapevine, Texas
Subject:
RE: Baowolf's Fun In the Sun Mentor Group (OPEN)
Pam, what an awesome day!!!!!! Love those sub 2:00 HM's, and you killed it! Also some very SMART running. 1st in AG is just icing on the cake. Seems like I recall you doubting your fitness recently. Good to be wrong sometimes

.
Originally posted by medeiros13

New England's favorite past time of raking leaves. I've worked my way up to 11 miles....doing it right this time and feeling a lot better.


OK Jay, I first read that as you raking 11 miles of leaves. Might have seemed like that, but glad you were talking about running! Glad you are in a good place. Know it's a fluid thing sometimes, but betting on you to adapt and make the best of whatever life throws.
Steve, glad you have your race schedule set. That uncertainty can be so demotivating. Careful on the yard/house projects!
One week of the new job under my belt. Kind of a marathon there....trainer will be with me most of the first month. Lots of systems, policies, etc. to learn as we also try to keep up with normal flow. Got to talk with a family who was worried about moving their dad as I was leaving one day. He will be right down the hall from my FIL. I could totally empathize with their stress, and it was nice to get to reassure them. FIL fell (more like slid out of his chair) on Wednesday, and staff probably would have called 911 per policy had I not been able to go check on him. Said his knee hurt...which it always does, and then he said he was OK, which he was. My new boss is training for her first half mary (Cowtown). Who knows, maybe I'll join her. It's been tough to get anything consistent going workout wise, though I did something all but 1 day last week. Darkness is my enemy right now, and park workout routine is just not safe because there are NO lights down there. Now I seem to have picked up a cold, so will likely just be slogging through and sticking to essentials until that resolves.
Yes, Linda, how are you guys doing, and more importantly, how is your stress level? Praying that things will fall into place for you guys soon.

Extreme Veteran


897






Tallahassee, Florida
Subject:
RE: Baowolf's Fun In the Sun Mentor Group (OPEN)
Jay, you made me smile by calling hills the Pam plan. Thank you Cutie. But I found a long time ago that everyone definition's of a hill is different. I heard people complaining at Savannah RNR - when the hills were about 15 ft. And I can't begin to duplicate Steve's hill of pain. But I found that seeking the hills, whatever you can find, preps you better than flat. Once in NY, our rental was near a bad azz hill. My son declared that I would be a "real runner" if I could make it up that hill. So by George, by the end of the week, I did it multiple times. Now, I seek the hills so that in races, I can call upon that. A few weeks ago, I intentionally diverted to a small loop that has a bad, bad hill. A homeowner was staring at me and watching me; I thought he was paranoid but found that he wanted to know if I knew what was around the corner. He cheered me as I ran up it.
I want to give a plug to someone. Today, Gary passed me around mile 9. Well Gary should never, ever, ever be behind me in a race. Never. So I was curious and his friend explained it. Gary just did a 100 mile race. Last weekend. In the Himalayas. Yea, I bet that was pancake flat. This weekend, he just wanted to go out and run in the beautiful weather. So I guess he just took it easy (probably had a beer or two) and then found his legs late in the race. He still whooped me royally. And he is in the 60-64 AG and I think about to move up.
Carol, so glad the job is going well. You are uniquely qualified to help people who are stressed about making those hard decisions. I know that your reassurance was God's blessing. And oh Girl, I know Cowtown is your race. Try Sweetie but only if it won't hurt you.
This time last year, I was at TN Ragnar. I was started my second leg at 1:00am. I had on a pink wig and by the end of the run, I had picked up a guy half my age. Ah good times.
Edited by Pink Socks 2014-10-25 6:40 PM

Elite


4861








Alturas, California

Gold member
Subject:
RE: Baowolf's Fun In the Sun Mentor Group (OPEN)
Grats Pam.
Nice consistency Jay, keep it up and this will be your best race year ever.
Happy the new job is going well for you Carol.
My job is fine but pretty busy as we are at 50% of the staff in my department that we were 3 years ago. Morale in general is low because our admin are hiring friends and family who are not qualified to do the job, have a really low level of professional knowledge and... well that is enough. Just tough on the worker bees. I am doing what I can but I am finding it hard to encourage good work performance when they tend to not listen to what I say and learn from it, but just lean on me to fix everything and know everything. They seem to feel incompetent and dumb when I am just trying to make them know how to do their job better so they can help the kids they work with. I bet there are some in here who have felt the same way with my attempt to be helpful in their journey. Know that it is all well intentioned even if I fail to communicate in a gentle enough manner.
Prayers to everyone seeking jobs or struggling with work environments. Take care of you and yours.
Two more weeks to get rid of my stump before I have to start my TX build.
Edited by Baowolf 2014-10-26 11:24 AM

Extreme Veteran


897






Tallahassee, Florida
Subject:
RE: Baowolf's Fun In the Sun Mentor Group (OPEN)
Work had a 5K yesterday. Almost all of the 250+ people stroll and some walk hard. Probably20 run and then maybe another 20 run/walk. It's tougher course because some is XC. I intended to go easy and pretty much did so until half way. Then I realized I was probably 2nd woman. I knew I didn't have enough to pass Karen, the leader but I made it my goal to keep up with her as much as possible. She, unbeknownst to me, cast furtive glances back and swore that she would let the person that had just run a HM pass her. So she pushed which pushed me. She died near the end but I came up and told her to move, move, move because someone had inadvertently cut the course and we were not going to lose. She moved! Too fast for me and I came in about 4 secs behind her. She was winner and I was first master - well for the women. We both got gift cert to the local running store and I'm doing a happy dance.
Also, after talking to multiple people yesterday and having one friend that competed her first 5K, I volunteered to lead a run/walk group at work. I am making it know that I'm not a coach but I will map routes, safely build, find a target race, and answer some questions.
Not to be Debbie Downer but everyone, count your blessings, hug your family, thank God for the functions that we all still have. Last night, took dinner to a friend whose husband has brain cancer. It was heartbreaking to see such a dynamic man (he sent a tape into Survivor several years ago) who was shuffling, lost vision in one eye (the eye can see but the brain can't process the visual signals), and who can't find the words for what he is trying to say. And then to see a beautiful strong woman who is losing weight way too fast because of the stress and caretaking role. Second round of radiation starts tomorrow. So all, just be thankful.
Linda, I'm praying so hard for all of you. Hoping that the insurance kicked it before it was needed.
Edited by Pink Socks 2014-10-28 5:50 PM

Veteran


420






Dartmouth, Massachusetts
Subject:
RE: Baowolf's Fun In the Sun Mentor Group (OPEN)
Hey everyone. Taking a quick break from raking leaves so I figured I'd do a quick post. I had planned on doing my long run today but my legs were tight after yesterday so I did an elliptical day instead. My trainer friend said it was important for me not to neglect legs as I swim/bike/run so I'm taking her advice and going back to work on them. Also, I got back in the pool today after a 2 week hiatus. I felt pretty good but the muscles you use to swim weren't happy with being worked out again without warning! I guess I could've done less yardage (or the same but smaller distances) but I know its highly unlikely I'll get in the pool after my LR tomorrow.
Pam: Don't apologize for posting something that makes you appreciate your life/family! Its good to be reminded of that sometimes.
Carol: You made me laugh when you thought I was doing 11 miles of raking leaves! My acre of land is more than enough for me thank you

Linda: Hope all is well with you and your family.
Mike D: Patriot HIM registration is open; I'll be registering next week after I get paid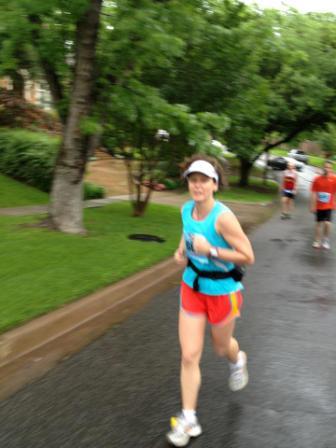 Expert


1532




Grapevine, Texas
Subject:
RE: Baowolf's Fun In the Sun Mentor Group (OPEN)
What Pam didn't mention is that she ran a 26 min 5K just a day (or was it two?) after PRing a HM (I think that was 1:53 ish). And she is healthy! Sorry Pam, I had to "out" you on that stuff. If you won't brag on you, I will!

Jay, by the time you go up and down raking leaves on that acre, you may indeed rake 11 miles!

Steve, workplace dynamics are always amazing. I think sometimes people just don't want to change/grow, and if you represent that, it is not well received.

It's been a rough ride on the new job so far. Been sick since Saturday, went to doc last night, and finally had to leave early this afternoon to get script filled and get some rest. Voice is gone, and my feeble attempts at talking lead to coughing fits. Trying to reserve judgment until I at least feel like a human again, but not sure this job is going to work out. It's either an opportunity to help rebuild, or something I should flee from, and get FIL out of there to another facility. Place is in major crisis mode, EE's quitting left and right, meds not reordered because supervisor resigned and no one knew how to/had authority to order, abuse/neglect allegations being investigated by state, etc. Know I'm seeing the unvarnished inside view, but the huge loss of managers/staff is a recent phenomenon. No one seems to set priorities. Everything is right now, constant interruptions, terribly inefficient for all. I'm told I can never let calls go to voice mail to return same day, must answer all calls even if there is someone already in my office. Corporate trainer will be with me the next two weeks starting Monday, so will see what that yields. Rant over, maybe one day soon I'll have a workout to talk about again.