2008-08-28 11:31 AM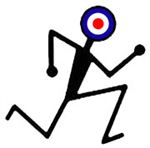 Expert


622




Conifer, Colorado

Subject:
Copper Triangle This Monday
Hey there!!!

Looks like there is a small group of really, really good looking people doing the Copper Triangle on Monday.

Dime, Julia Purr, my friend Laura and a few others will be leaving the the Starbucks near the Copper exit at about 8-8:30... there will be an optional run brick and then margs brick after the ride.

The ride is about 80 miles with 6000 feet of climbing. We will be going fairly easy and there are stops along the way.

If you haven't done this ride it is frickin' beautiful and challenging. A light jacket and perhaps gloves are recommended.

Did I say that this is an offensively good looking ride... be one of the pretty people and join us!

2008-08-28 1:52 PM

2008-08-28 2:22 PM

2008-08-28 9:31 PM

in reply to:
#1635143

2008-08-29 11:07 AM

in reply to:
#1637256

2008-08-30 11:55 AM

2008-09-01 8:34 PM

in reply to:
#1641219

2008-09-02 9:40 AM

in reply to:
#1642285

2008-09-02 10:51 PM

in reply to:
#1643003