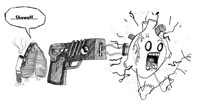 Master


2665







The Whites, New Hampshire

Subject:
January CHALLENGE Challenge
Take your December total(s), increase them 10%.
Simple as that.
But, since I
never
have short, simple posts, here's the explanation. I've noticed that people (not ME, of course...) tend to underestimate their goals in order to reach 100%. In one challenge recently, only two people in the entire challenge didn't reach 100%. Those people, of course, get singled out even though they put in awesome efforts, simply because they chose a goal that truly challenged them. So the point of this challenge is to set a goal high enough that you almost certainly will NOT reach 100%. There will still be a mid-point cutoff for those who aren't really involved anymore, but it will be low enough that a consistent effort will get you there.
Whatever you want to work on, take your Dec totals (or most recent ones) and up them NO LESS than 10%. If your December totals were artificially low due to the holidays, rest period, illness, laziness, etc., figure out where they would have been in a normal month then increase that by 10%. I don't care what you work on, just make it really hard to get to 100%, and make it trackable on a monthly scale. If you choose to work on more than one goal (50 mi run, 10,000 m swim, log food 30 days), each goal will be entered as a separate line on the spreadsheet. Thus, if you fall behind on, say, running, it won't affect (or boost) your standing in swimming.
Weeks will end on Friday, except the last week. They will be:
01/01-01/09
01/10-01/16
01/17-01/23
01/24-01/31
Anyone not at 30% by 01/16 will be dropped.
Please state your interest and what you want to work on now - you will be able to fill in your goals once you have your December totals.
There will absolutely NOT be a reward for going over 100%. I am hoping most people will end up in the 85-95% range, and that everyone will crank it out to skid in sideways to 100% on the 31st. How well can you judge your true ability? You are expected to police yourself - if you underestimated, raise your goal. Teammates, encourage team members to up their goals and keep pushing themselves. Don't make this easy, make it a CHALLENGE.
The glory goes not to the team who wins this most handily, and possibly not to the team with the highest percentage. The judging will, in the end, be subjective and judged entirely by me, your challenge dictator. I might consult consultants of my choosing. I will decide who set reasonable yet challenging goals, which teams worked together to push and encourage each other, and however else I feel like determining who worked the hardest. In other words, convince me you dug the hardest for it.
Just do not push beyond reason. Methinks Marma would get a little irked at me if I encouraged people to bust themselves up for a signature line and avatar!
Now, what were those resolutions you were thinking of setting?


KOM

2008-12-26 5:00 PM

2008-12-26 11:07 PM

2008-12-27 8:13 PM

in reply to:
#1873592

2008-12-27 8:15 PM

kenj

2008-12-28 7:45 AM

2008-12-29 3:36 AM