34



Subject:
RE: Learn How to Swim Training Group
Well I'm new to BT and to the Tri scene as well. I'm similar to many here in that I swam a lot as a kid but not doing laps, just playing in the lake. Now 40years later, need to learn to swim correctly. Have taken about two months of lessons to refine the technique and swim correctly.
I'm in good running shape as I race a 13.1 every month (7.45 pace) and run/bike 4-5x a week. That being said, swimming is another beast :-) I can do 50yds but then need to rest to catch my breath. I breathe every third stroke and at the end my HR is only about 120-130 but it 'feels' like my heart is going to pop out. After about a min or so, I do another 50 and repeat. I can swim 1000+ yds this way but I can't seem to get past the 50yd barrier for constant swim.
In open water, I can swim a sprint distance no problem with my head out of water so my body isn't what is getting tired out.
So, will the duration eventually increase as I log more laps or do I need to be doing something specific to address? I usually swim 2-3x a week
Thanks for any input as I want to do a HIM next year.

27



Subject:
RE: Learn How to Swim Training Group
Is there ANY advantage to breathing every third? Why do it? I guess it gives you the ability to breathe on either side, but that only helps when you're in super choppy water (eg, Lake Michigan). I found I didn't really get into a comfortable pattern until I settled on one side (I'm a lefty) and just breathe EVERY TIME I CAN.
I find that I never get "out of breath" while swimming. I have to stop after a couple miles because my arms get tired and my legs start to cramp.... but my lungs are still raring to go.
Member


15



Alameda

Subject:
RE: Learn How to Swim Training Group
Hello Sara,
My name is Pierre and I would like to join your group. I am a new triathlete working to my first sprint on Tax Day! I am 53 and have been active most of my life until 2009. I got sick and was down for more than 9 months. Then as I got healthy I ate everything in sight and swelled to 240+. Last summer I looked in the mirror and didn't like what I saw.
I have always been a runner but being so heavy the Doc started me walking. I was bored so I started cycling. After losing 25 lbs I started jogging lost few lbs.
I have can run a 5K in 27 min my longest run to date is a 10k. Running came back very fast, cycling 25 miles in 1:40. I started swimming three weeks ago and it's the hardest thing I have ever done. I can't swim 250 yards without stopping. I am starting your learning to swim plan this week.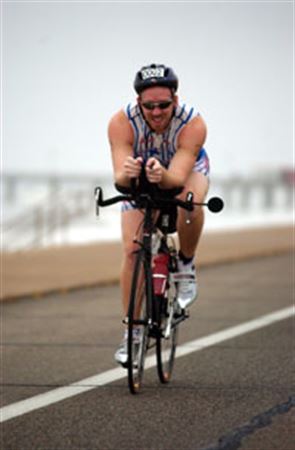 Champion


13323









Subject:
RE: Learn How to Swim Training Group
social_pierre - 2012-01-03 7:24 PMI can't swim 250 yards without stopping.

Give yourself a month or two, this will pass. When I first started, though I knew how to swim the strokes as a kid, I had no endurance...I couldn't swim half the pool length without stopping. What worked for me is to swim an easy stroke (sidestroke) for 4 lengths, then try to do 1 length of the crawl, then switch back to 4 lengths of easy (side) strokes. That way I kept the swimming continuous and then started doing more forward crawl and less easy stroke. After a few months I was able to crank out 8 lengths of forward crawl to 1 length of sidestroke continuously, repeat.
Member


15



Alameda

Subject:
RE: Learn How to Swim Training Group
Thanks,
I went last night and did 500 yds ( resting 60 sec between every 100) plus 100 with a kick board! I am talking to a coach next week. after using a kick board i know i am doing something wrong the snail on the the side was moving faster than me!
thanks
Pierre

8



Subject:
Learn How to Swim Training Group
Hey all, Well it's been almost 2 and a half months since I began the couch to sprint program. The biggest progress I have made haas been in the swimming department. Like some of my previous posts read I could only swim one length of the pool before stopping to breath like I had ran up 10 flights of stairs. It took a while to be able to swim long enough so that my arms and legs actually felt like they had been worked a little bit. I have recently complete 1000m swim workouts in the same time it took to do 400m swim workouts when I started. I also have increased my continous front crawl swim to 500m, something I thought was not possible in the beginning. I know my technique needs improvement and I am not breaking any speed records but it is giving me the confidence that I will be able to complete my first Sprint Triathlon this coming summer. I still breath every second stroke but do incorporate drills where I breath every third stroke to build up my lungs so hopefully by summer breathing every third will be doable if necessary during a race. What should I be focusing on now? Swimming 1500m-2000m continous or inproving speed and efficiency. My goals are to complete 2-3 sprints this summer and maybe end the year with an olympic. I have given my self lots of time to train seeing as I started training in October and my first tri is in July. Some seasoned advice would be greatly appreciated. Also planning on doing a Duathlon in June as my local tri club is hosting one. Happy New Year everyone!!

1



Subject:
RE: Learn How to Swim Training Group
Hi All. I am woefully out of my league, but extremely excited about training for my first triathalon- ever. I've only recently started exercising regularly again in the past six months and do not have times that look those of a fit adult, let alone a triathlete! But all in due time.
I am a 36 years old historian, Independent scholar, wife, and home schooling mother of three (ages 10 years to 6 months) but have not run or swim competitively since age 23. (I ran and swam in high school and college). I also just had two back to back pregnancies in 2010 and 2011. I've lost 42 pounds since August 2012 (eating veggies and exercising) and expect to loose another 32 before my first event to get back to my college athletic weight. I intend to compete in Iron Girl Columbia 2013. Right now I'm swimming a 45 minute mile and running a 67 minute 10k. Today was my first time swimming in over a year (and last time I did so I was about 8 months pregnant). Sunday (Feb 26th) was my first time running in almost 5 years (ive done elliptical in gym regularly) - running 6.4 miles in Ellicott City. Despite the extra weight, my joints are fine and I feel amazing a week later and absolutely KNOW I can do this. This Sunday I will run 10.2 miles. I will also start cycling again toward the end of March.
I have not swam in open water since an intensive swim camp on the cape in 1997, so I am joining this group for tips and support. I have a long way to go, but definitely expect to be ready for next year's triathalon. (to compete, not place, of course). I appreciate any and all motivation and hope everyone has a successful season!

2



Subject:
RE: Learn How to Swim Training Group
Hello All,
I learned to swim a few years ago and recently decided to try a tri (no pun intended) but my swimming is weak so I signed up for classes again. My problem is breathing and kicking. I can't seem to put them together so needless to say, it leaves me quite tired. Are there any specific leg exercises one can do to help improve the kick? I'm going to try the breathing/hold the edge of the pool exercise. I'm getting more comfortable in the water in that when I don't have solid footing, I don't panic like before. The Triathlon is in September and thankfully the swim portion is in a pool but I don't want to not finish the swim portion. Any suggestions for someone just trying to finish?
Thanks,
EJ