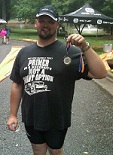 Extreme Veteran


463








Mayberry

Subject:
Lazy Man Triatholon
HI all,
One of my college friends invited me to participate in a "Lazy Man" Triathlon when she learned I'd started doing these things. I think it's a pretty neat concept, especially for newbies trying to build a training regemin. It also got me thinking about the fundraising possibilities for chartities and non-profits. My museum is always looking for new ways to engage folks and my Rotary Club is already looking at a tri as a club event for 2012. I also see possibilities with our local parks and rec for community health initiatives.
Give this a gander and let me know your thoughts and opinions about this--I figure this is as good a community to poll as any.
is it something you'd do?
how much would you pay to participate (hypothetically), or am I just crazy here?
would it help to incorporate a group event--maybe a sprint into the process at the end? or??
I've cut the links out because I don't want to overwhelm them, but the content explains what they've been doing for a few years now.
Potential Lazymen and Lazywomen,
It's time to make the commitment for the 2011 Lazyman Triathlon. For those of you unfamiliar with the concept, the idea behind a Lazyman is that you do an Ironman triathlon's length of swimming, biking, and running, but that you have 1 month do it rather than 17 hours. This will be 2.4 miles of swimming, 112 miles of biking, and 26.2 miles of running. This year marks the fifth annual Lazyman brought to you by Michelle and Nicole.

Basic rules: This is not a race or a contest so much as a personal challenge. The clock will start at 12:01 am on July 1 and end at midnight on July 31. To be a finisher, you must swim 2.4 miles, cycle 112 miles, and run, walk, or hike 26.2 miles. You choose the times and places to complete this mileage, but you must report it to us on a weekly basis. Cycling on a stationary bike and running or walking on a treadmill count. Swimming can be in a pool or a lake, but must be in a place where you are actually swimming and can count mileage. Tubing down the river doesn't count (we're not THAT lazy.)

Sign ups begin now! Please sign up by NOON on TUESDAY, JUNE 28 if you would like to participate. Once you've signed up, you'll receive details about how to submit mileage, t-shirts (only available for finishers, as an extra incentive!), prizes, the Lazyman party, motivational emails, etc. Entry is free, t-shirts are at cost. Although it is fine to sign up and not complete all the mileage, we ask that you only sign up if you at least can commit to reporting your mileage, even if it is zero some weeks. People who sign up and then never report anything will be shunned from future Lazyman events.
To sign up: DO NOT REPLY TO THIS EMAIL TO SIGN UP. Go to ......... and enter your name and email address. If you are signing up others (spouses, etc.) please sign each of them up separately to help make our record keeping a little easier.
Also, if you invite others to participate, please keep it to no more than two degrees of separation from us. In other words, you are welcome to invite your own friends and family to participate with you, but please ask them not to invite their friends and family too. You do not need to live in Charlottesville to participate, since all the mileage is on your own.
Last year, the 27 participating Lazyfolk completed 80.6 miles of swimming, 2620 miles of cycling, and 920 miles of running. Let's see if we can beat that in 2011.
Thanks for your thoughts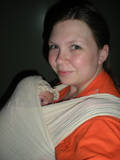 Member


136




Subject:
RE: Lazy Man Triatholon
I think it's a cute idea, but I wouldn't do it. A t-shirt isn't enough incentive for me, and I'm bad about regularly reporting stuff because I'm so busy...and I definitely wouldn't pay to participate...I get the idea that you're getting at, which I think is great, it's just not something I would do. They do a mini-triathlon at my rec (they didn't this year though for some reason) or even a "funny" triathlon...a three-legged race, tube swim, or snorkel swim, etc. That I would do if it was shorter distances and just for fun and to fund raise or raise awareness for a cause I care about.



Member


523



Toronto-ish

Subject:
RE: Lazy Man Triatholon
I like the idea.
Due to it being so non-structured I'm not sure how effective it would be as a fund-raising venture, however.
It would be a good event to do for a large group if they were active. It would be difficult to find a large enough group to create sufficiently effective competition. Perhaps firemen vs. policemen, to see who could get the most to complete it?
As for what I'd pay... since it's virtually entirely a donation it depends on what the cause is.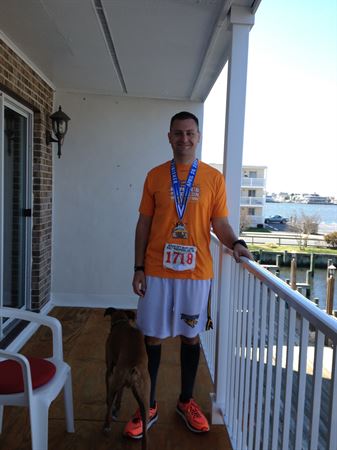 Master


2503




Crab Cake City

Subject:
RE: Lazy Man Triatholon
I think its a pretty cool idea and I would probably do it. It would be great training for me because the bike and run mileage is way more volume then I am currently doing in a month. Unfortunately, July is a very busy month for me and I am out of town for half the month so I wouldn't be able to participate this year but it is something I would do another time.
Veteran


371







Subject:
RE: Lazy Man Triatholon
My gym does this every year in March. We have different distances - Olympic, Half Iron and Iron. You can earn an 'Ultra' iron for completing the iron distances in 2 weeks.
Our challenge includes a tracking board where you log your distances for everyone to see & compare. As well as prizes (first one finished, and raffle prizes for all finishers).
I think it's a lot of fun & we have a lot of participation.


Expert


696







Sugar Hill, GA

Subject:
RE: Lazy Man Triatholon
I think this would be a cool idea if at the end of the month you hosted a sprint distance tri. Everyone would need to swim 2.1 miles, bike 100 miles, and run 23.1 miles. Then on race day they complete their Lazy Ironman journey. Make a big deal out of the finish line, hand out Lazy Ironman Finisher medals, etc.
I'm copletely stealing this idea. Recently, we almost registered my 7 year old son for a kids marathon. Same premise, they had a period of time to cumulatively run 25.2 miles and then they all got together for the last mile.
As someone who works in non-profit development, I understand that this is much more of an undertaking but I think it gives more bang for the buck. Partner with a local race director to make it a bit easier for yourself.
Regular


130




Subject:
RE: Lazy Man Triatholon
I would love to do this, but not on vacation in AZ. I think I'll try the distance in September when I'm back at home in SC where I can have my regular bike.