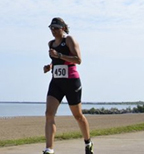 Veteran


159





Cleveland area, OH

Subject:
Minimalist vs. Traditional Shoes = Plantar Fasciitis vs. Runner's Knee
Looking for a bit of advice here. I began my triathlon journey back in February and started training in traditional running shoes, Asics GT-2160s, and quickly developed runner's knee (in both knees).
I did a boatload of research and decided to give minimalist shoes a go. I started out with the Nike Free 3.0 and migrated to the Merrell Trail Glove. Since going "almost barefoot," my knees feel great, however, I have developed a nasty case of plantar fasciitis. I did break into the shoes, starting out running no more than 1.5 miles at a time in them and gradually building distance as recommended. I also stretch religiously.
Took some a few weeks off from running (and iced my heels daily) and the P.F. pain subsided. I decided to try the Asics again and my heels felt great after a few runs, but the knees ached again. Gave the Trail Gloves another shot yesterday and could hardly walk this morning because my heels were so tight.
Any advice on the shoes, running form, etc.? And, which is the lesser of the two evils?

2011-08-09 8:28 PM

2011-08-18 7:16 AM

in reply to:
#3648486

2011-08-18 7:07 PM