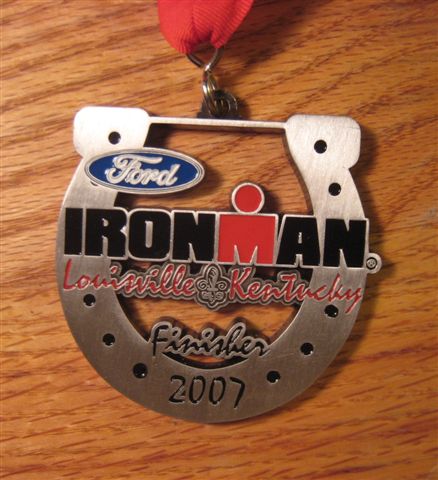 Champion


9785











Alabama

Subject:
RE: OWS Alone
kanoelani - 2011-12-19 10:01 PM I tried it once... and realized I was swimming in a school of Alligator Gar. I will never do it alone again. They were huge and they eat water fowl. You should have seen their chompers.
You should have song the Solo OWS cheer:
Alligator, alligator, alligator Gar
We're not as dumb as you think we is!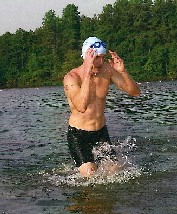 Extreme Veteran


1942









In front of computer when typing this.

Subject:
RE: OWS Alone
pga_mike - 2011-12-19 8:20 AM
Physics202 - 2011-12-18 9:53 PM What is it that people find so dangerous about swimming alone?
If I get a cramp, bonk, or have water go down the wrong pipe on the bike or run, I stop. If it happens on the swim 200 yards from shore, I die.
So if you are swimming 200 yds from shore and have water go down the wrong pipe you die? Funny, I have had that happen a bunch of times and haven't mysteriously dropped dead from it! Not saying it is a good idea to OWS alone but this is a little melodramatic...Also, do you just sink to the bottom of the pool when you bonk in the pool? SOunds like you are afraid that is going to happen to you in an OWS.
What do I do- swim parallel to shore if possible. Not much chance of getting into serious trouble like that, unless you get water down the wrong pipe and drop dead immediately.

New user


433







Subject:
RE: OWS Alone
I've done it before. With a wetsuit on, can't drown. Without a wetsuit, I have to pace very slow. Actually I swan with the Tri club here, unless you swim parallel with someone, you are nerver really as safe as you think. Usually you tend to be a few yards away from your buddy or they are ahead of you or behind you. So you pretty much have to realize you need to go slow out and fast on the way back. I have used a yellow neon cap alone, so boaters can see me. Because of the arm movement, they can see you swim most of the time...however, when you stop and hover is when you have to watch, bright color cap will help this. I've seen someone wear a belt lift presever thing, wear you pull something ...probably CO2 to inflate a floater. I thought this was neat because you wore it like a belt. Next sesson, I'm getting a kayak so my daughter can follow me or I jump in for a paddle back to shore, to help me work in going at a faster pace. Someone else made the comment about biking being worst for safety, probably is, going 30mph down a hill and loose a tire or getting hit by the 3000 pound cars. As long as you can float and not swimming in an ocean, I think swimming alone is pretty safe.

Elite


7783










PEI, Canada

Subject:
RE: OWS Alone
chenny - 2011-12-20 2:48 PM I've done it before. With a wetsuit on, can't
drown
sink. Can float face down .
Fixed that for ya.

I have and will swim open water alone. I would prefer not too but have no qualms with doing so if I know the area for boat traffic, currents etc.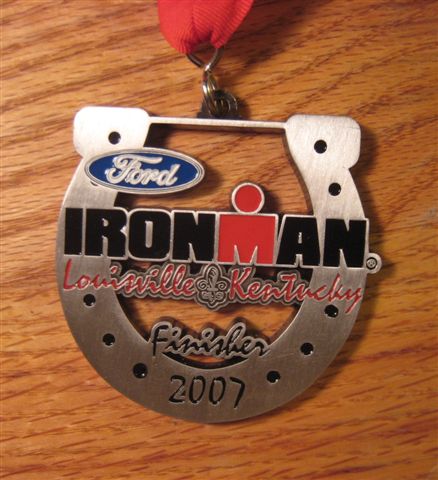 Champion


9785











Alabama

Subject:
RE: OWS Alone
Presumably we are all good swimmers or we would not be doing triathlons. So aside from cramping or drowning or having a heart attack, here are my concerns:
1. Getting hit by a drunken boater or someone on a SeaDoo who is has his head up his....uh, is not watching what he is doing or where he is going.
2. Getting tangled in fishing line or someone net or hitting some other debri
3. Getting snakebit by a water moccasin (or sharkbit for ocean swimming)
The third item is sort of tongue in cheak....sorta.

209




Subject:
RE: OWS Alone
I swim in a lake with boat traffic.
1. Don't swim at night?
2. Don't swim later in the day when you have alot of boat traffic.
3. Beware of 7:00 am on the weekends when the Bass Tournaments start. It seems they are in a big hurry to go nowhere and then use trolling motors.
4. Don't swim with anything that would compromise your hearing. If you hear a boat and think it is coming toward you stop and splash.
5. Similar to biking, at some time during the ride it is better to stop the concentrated effort and be more aware of what the cars are doing.
6. As far as poisonious snakes or alligators, move north and get a wet suit.

Champion


5781









Northridge, California

Subject:
RE: OWS Alone
Just as there's "alone" and there's "alone," I think there's "open water" and "open water." I wouldn't particularly hesitate to swim in a small lake or river (which is what the OP is talking about)...may not be the safest thing to do in the world, but in those settings I feel confident I can get to shallow water even with a cramp.
If we're talking about the ocean or the Great Lakes or that sort of setting, it's a little different. I've swum solo in the ocean a handful of times, but only with my wife spotting from the shore...not that she (or a nearby lifeguard) would be likely to save me if I went under, but at least she'd know where to look for my body. If you're in a setting where you are a significant distance from shore and exposed to hazards like watercraft or rip currents, solo OWS is dicey, IMO.

Veteran


559





Subject:
RE: OWS Alone
I would never do it. The risks are simply to great. We have a group of triathletes that get together most Friday afternoons for a 1,2k swim from one jetty to the next and back. Very informal and you just pitch up and a wait for a group to form and off you go. Good fun to as there is a pub at the jetty where we end. Alone...never. I have swam with dolphins, that was OK but noisy, what I did not see was the killer whale a 100-200m away, that was pointed out to me by a group of scuba divers. Not that a buddy would have been a great help but at least he would be able to retrieve a body part or 2 so the insurance would pay out.