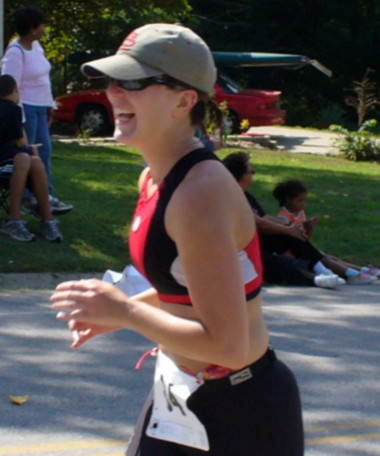 St. Louis, MO

Subject:
RE: Need help Building mental toughness
Another supporter of postive self talk here. When I came into tris last year, running was by far my weakest event, so I did it the most often. That was good advice I got here. However, to get through those runs, I dove into the quotes that you can find here. Find a few that motivate you then repeat them over and over and over again while running. Helped me tons.
Another tip- allowing yourself to walk through water stations (or at other planned times is OK) just practice starting running again! It's a skill to be learned too!
Good luck and ENJOY.
Sarah


Master


2491










Subject:
RE: Need help Building mental toughness
THANK YOU!! ...stupidnickname. I'll asssume that is an alias you use for blunt advice.
My gut reaction was to "Quit being such a wuss!!!" As I read some of the responses, it seemed that I might be too mean to be offering advice on this thread. But, stupidnickname set me straight.
I'll admit that I was a (CRAPPY) cross-country runner in high school. I have run in the interim decades, and that is my easiest leg...BUT...I got my butt whooped in my first tri in the swim leg. It was a full-on, panic-attack, get-yourself-together-before-the-medics-arrive, reassessment of my abilities. Fortunately, I was able to remain calm, breathe deeply, and realize that dogpaddle, sidestroke, breaststroke, or otherwise, I would be able to get through to the more friendly legs of the race.
My coping strategy for the next race was what many others have suggested. Practice more frequently. Build up some endurance, strength, and most importantly, the confidence that comes with more endurance and strength. Try some longer, relaxed, easy-paced runs as well as some shorter, more intense, faster runs. Learn how your body reacts and what it can handle under a variety of circumstances. Practice running after cycling. Rather than dreading the run next time, you will have a new, improved attitude based on your own experiences that will see you through.
Even though, the run leg comes easiest to me, after the grueling swim and bike, I'm pretty much feeling good that I will finish now that drowning and crashing into a tree are no longer possibilities. I find my pace and cruise to the finish, trying to ignore the sprinters near the end. If they were in such great shape, they would have evened out their pace through the other two legs!
Thes disciplines are all technique oriented. Usually, you can learn to go faster, or at least stay the same speed while expending less energy. While injured, I bought Chi Running, a book that many have found helpful. Perhaps some subtle form adjustments will be good for you? You can learn to focus on specific adjustments, one at a time. As the small aspects become more automatic for you, you can add new improvements to your form while the others become ingrained.
Most importantly, you are most of the way there. You can do it!
Edited by monkeyboy64 2006-05-23 7:24 PM
Veteran


182






Ocean, New Jersey

Subject:
RE: Need help Building mental toughness
When I run I focus on the fact that running is one of, if not THE, best exercises for shrinking your butt and gut. Not to mention that it's extremely time efficient...you can always "squeeze in" a run. I don't like running either, I'd much rather ride fifty miles than run five, but it gets you in shape fast, making everything else you do a lot easier.

Basic fact- running's like medicine-I hate medicine, but I know it makes me feel better-SO TAKE YOUR MEDICINE!


Expert


783








Spokane, Washington

Subject:
RE: Need help Building mental toughness
One thing that I find is that as I start to get hungry on a run, the negative thoughts multiply. Shorter runs are easier (duh...) but if I'm objective on longer runs it's actually kind of funny. If I don't eat regularly, I get grumpier and grumpier and start thinking I should stop, why am I out here, I'm not a runner... If I keep up with my nutrition plan it doesn't happen as much, and even if I don't start taking in calories until that point, after I take some in it's like magic - that talk seems to stop. Weird.

Elite


3498











Chicago

Subject:
RE: Need help Building mental toughness