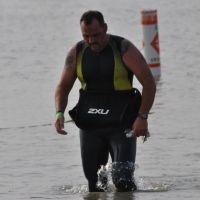 Member


58




Subject:
Heart Rate Training?
About 3 weeks ago during the training for my first tri in June, I decided to give heart rate training a shot. The problem I have is that it seems soo darn slow.. I have always been in enough shape to able to run 3 miles, I always have lifted, ect.. So I have a decent background of activity, and am not a couch potato.
I understand the that heart rate training will eventually help me go faster longer, but its killing me to go this slow. "Go hard or go home" is how I have always been. My bike rides are at a slower mph than I want to do and my runs are slow, and at times almost feels like I could power walk that fast.
What I'm doing is three bikes, runs and swims week. Day one of each activity I push it a little and dont concentrate on heart rate that much, but days 2 and three are dont keeping heart rate in zone 2. All of my workouts are for a certain time, not distance, so at the slower pace I am not getting in as many miles as I was before I started heart rate training. It seems to be working, I think.
My question is should I do this until my tri on June 17th? Or should I speed things up the last month before my tri?
Any experience with this type of training would be appreciated.