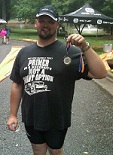 Extreme Veteran


463








Mayberry

Subject:
upgrade wheel or bike
so i'm in season 2. I don't ride as much as I should but that's another issue for another day. I'm currently riding a 2009 Specialized Tricross sport with low milage. it's a good bike, I bought it because I wasn't ready to commit to a full roadie for my first bike. would be comfortable with that decision now. but i have no issue with this bike. it works for the amount of riding a do and as a clyde a pound or two doesn't mean much to me.
I'm doing a trail ride (rails to trails trail) this weekend with a friend and having to break out the orginal wheels for the first time since i've had bike as opposed to road slicks. maybe I'm lazy, but i was considering just buying another wheelset to put the "trail" tires on so I can just switch them out. I went to look at what was available at the LBS (can get into a baseline bontraeger set at the lbs for $125), but then I got to thinking maybe I should just upgrade the wheelset for road riding as that's what I've always been told is the best upgrade to make--the one's the shop owner reccomended as a good starting point came in at about $550 plus a new cassette for ease of swapping.
Here's my quandry. I only paid like $700 for my bike and that seems like an awefully steep investment upgrade. would I be better off to go ahead and make that change or just shop for a whole new-to-me road bike with better components out of the shoot.
thanks in advance for your thoughts.


Master


1414







Calgary, AB

Subject:
RE: upgrade wheel or bike
IMO waste of money in that range. Either save that money for what you DO do (road bike, or tri bike - what you will ride more) or get a cheap set used on kijiji/craigslist (like 100 bucks or less). Spending 700 on some sort-of-beater wheels is a waste. That's halfway to a used tri-bike.
The bang for buck for tri's would be a used 60mm front (like a 404 or maybe one of those new flow fronts) - 300-400, and a cover for the back (75 if it fits on your wheel).
Unless you get exactly the same cassette you'll probably spend more time messing around with the derailer than the time it would take you to swap tires (always good to practice).