Expert


1091






Subject:
Help me be the best pacer ever!
Hi Ultra Peeps,
I've got the awesome opportunity to pace one of my favorite people on the planet, the guy who saw the athlete in me WAY before I did, the one who inspired me to IRONMAN, the one who always gets it done and expects no less from me, the calm before the storm, one of my training "husbands" in his first (and I'll venture, not his last) 100 miler this April.
What I need to know is how best to be a kick pacer? What gear (I am assuming I'll be a pack mule for what ever he needs?) should I be looking at? Is there any place/blog/thread/books to read up on being a pacer? He may not know what he'll need since it's his first 100 miler, and god knows I've got no clue lol!
Help me repay some of the awesome my dear friend Ranger has given me in our years of training and racing together!!!
Thanks,
Trish

Elite


3002




HURRICANE, Utah

Subject:
RE: Help me be the best pacer ever!
Here is some info Umstead puts out for pacers
Attachments
----------------
Pacersguide-1.doc (72KB - 107 downloads)

BigDH

2012-12-06 12:08 PM

Champion


5312






Calgary

Subject:
RE: Help me be the best pacer ever!
I have never had a pacer. But lord knows I could have used one.

Are you pacing the end? In which case it is not much of a pace. You say you will carry his gear, I don't think this is necessarily the case, lots of races allow pacers but not mules.

I write this from the perspective of a recent DNF at 148km after 32 hours of running. I am certain with a pacer I could have finished.

Hopeful the race will go perfectly and you won't need to prepare yourself as set out below.....yeah right

I would say you got to have some rules with him based on some assumptions.

Firstly, he will want to quit. You need to know how you are going to handle this. Maybe he needs to be yelled at. Maybe he needs to be tricked, "ahhhhh, it isn't so far." "nah, don't worry, you'll make it (when current pace dictates he may never make it)". Maybe he needs a hug. Maybe he needs to be reminded that his wife and kids love him. Maybe he needs a snickers bar, maybe he needs to change out of that shirt he has been wearing for 15 hours but just won't give up the time necessary for a wardrobe change.

I think, my best experience in my race came from running into a volunteer, and I wanted to quit so bad I can't even tell you, anyway, the only thing she said was "I know it hurts, it is hard, you will make it". That got me over a huge hurdle in the race and I know if she was behind me for the last bit there is no way I would have given up.

I really think exaggerating the positive and ignoring the negative is the way to go. I think that might be hard. Like what do you do when you know he should drink but he is refusing. You can't threaten him or maybe you can, I don't know.

Secondly, he will want to do something stupid. Like not drink. Or not eat. Or take off his hat. You will likely get yelled at. You will probably be blamed for many things including the weather.

Joking may be good or not be good. Or more likely, joking will be essential at sometimes and deadly at others.

I don't know what shape your guy is in, or what his goals are. Those have to be outlined well. If he is in danger of failing, whether that be placing, a time goal, or just finishing, stuff really will go off the rails. After 80 miles, having missed your goal, there really seems to be no reason in the world to go on. You must be prepared for that. For instance, my goal was simply to finish, I realized that there was no way I could make it before cut off so I gave up. I should have had a goal B such as to go until they pull me from the course.

Remember, a pacer is for emotional support. Your buddy's body likely can make it without much help, his mind on the other hand may put up a bit of a fuss.

There has to be an understanding of who is the boss on what. There was a point in the race at 28 hours where my dad told me to take my hydration pack. Now after 28 hours and 135km I was not thinking super straight. I got so pissed at him, lol. I shoulda listened, if I listened I would have finished without a pacer. So you and your buddy have to be on the same page with that stuff. Although, while I guess it isn't cool to have a mule it would probably be okay for you to take some supplies if he is stupid enough to refuse to take them and just transfer them to him when he realizes what a dumb a$$ he is.

I suppose if you are pacing the beginning you have a different set of problems. You really need to set out a pace you want to stick to and go no faster than.

For the most part though, I think you just need to shut up (or chat if that is what is wanted) and run with him.

I suppose it goes without saying that you should be able to do the distance you are pacing very comfortably. You do not want to be a liability.

looking forward to hearing how it goes.


Expert


1091






Subject:
RE: Help me be the best pacer ever!
Thanks Jenn and Darren...I have printed out the Ulmstead info and will print your stuff as well Darren.
I don't know where I fall in the pecking order of pacing just yet. I can't imagine Ranger ever wanting to quit. I don't know if it is in his vocabulary!

Good to know some ideas to throw at him if I am the caboose pacer.
Thanks, and I am sure I'll have more questions!

Champion


7404








Placitas, New Mexico

Subject:
RE: Help me be the best pacer ever!
Most races, a pacer is expected to be self-sufficient (so carry your own food/water) and isn't allowed to carry food/gear/water for the athlete (being a mule). You can help him think straight which means monitoring his food and fluid intake and his mood and make sure he's not too warm or too cold.
Be adaptable. You can't predict right now whether humor or empathy or "tough love" is the right strategy to keep him moving forward. You might need to divert his attention to the next 10 minutes instead of 2 hours. You'll need to recognize signs of stress (both mental and physical) to know if he's changed his gait and why.
I haven't done a 100-miler (yet), but they are different beasts.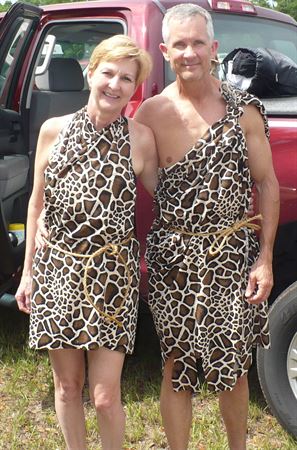 Extreme Veteran


1217





Tallahassee, Florida

Subject:
RE: Help me be the best pacer ever!
I wholeheartedly agree with advice given. Ask him what type of companion he wants/needs and then adapt. This weekend I did a 50K and the race encouraged others to come run the course and get their mileage or to come and pace a race participant. Hubby came for my 5th 10k lap. Since it was only my 2nd ultra, I didn't know what I needed. But before we left for the loop, he asked if I needed food, wanted to change shoes, needed to stretch. Then he ran beside me, listened to my whining, told me how proud of me he was, encouraged absolutely everyone we saw (which translated to me as total admiration for any of us doing the run), stretched me out at one point, was willing to pull me up from the a pee break if I couldn't get up, and talked to me when I begged him to just talk and take my mind off of things. I didn't request for him to keep me at x pace but somehow, the little cutie did it with encouragment and gentle hints; he knew my pace and my strategy. I know that a 50K isn't even in the same ballpark as a 100 miler but I think that Darren's/McFuzz's advice is great - discuss it first and then device a strategy. Then adapt. Best of luck to both of you!
Edited by Pink Socks 2012-12-14 7:23 PM