2012-12-28 8:38 AM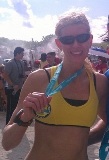 Master


2167






Livonia, MI

Subject:
I had a revelation....see ya later orthotics.
Last year after suffering from constant issues with my hamstring/glut, I saw a podiatrist who is a family friend. He had me walk across those fancy pads that generate a computer image of your strike and recommended orthotics because I put much more weight on one foot than the other, and both foot strikes looked more like a tripod made of three small dots than like a footprint. He gave them to me for free so I went with it. They are the medium weight, semi-flexible full insoles. They felt odd and heavy but he said there would an acclimation period. So I continued using them for all of 2012. My hamstring/glut issues disappeared.
Meanwhile I started having some major kneecap issues. Running didn't hurt per se, but my knees hurt after runs and lunges and squats became painful. After seeing a PT and doing some research myself, I determined that I had become quad dominant, that my gluts were not activating as they should which was causing a pull on the kneecap, thus the pain. All the while my run speed seemed to dwindle a bit and my legs just always felt tired on runs. I figured my knees and legs in general were feeling overused (I teach a weekly class with massive amounts of plyos, lunges, etc. plus running several times a week).
Last month it was time to replace my Brooks Adrenaline's. Unlike the current version that held my orthotic just fine, the new version had my foot feeling very overcrowded with the insert and the next size up was too big. I got them anyway and decided to try running without the orthotic. WOW....I felt SO fast. It was like all that speed I felt I'd lost in the past year all came back. It felt like shackles came off my feet. I tried again a few days later, same experience. I had blamed my slowness on my body being burned out but it seems the orthotics could have been to blame all along.
NOW, I wonder if these things are to blame, or at least partially to blame for my kneecap pain and issues. Maybe the orthotic worked TOO well to take the stress off my gluts and that the reason they all of a sudden stopped firing properly.
So has anyone else had a similar experience with orthotics??

2012-12-28 10:07 AM

in reply to:
#4551357

2012-12-28 10:10 AM

in reply to:
#4551474

2012-12-28 11:10 AM

in reply to:
#4551571