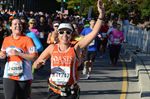 Member


128




, Florida

Subject:
How to Prevent Soreness and Water Retention??
Need some advice and help on how to prevent soreness and water retention after weight training. I go to a sculpting class at my gym once or twice a week and very much struggle with these issues afterwards. I've been going for years and don't think I'm overdoing it. Do I need to be doing some extra stretching or foam rolling? What exactly do I need to eat afterwards? My classes are usually at night and I really don't like to be eating a ton right before bed.
And what about this water retention I have EVERY time. It's just not cool to gain a couple of pounds every time I lift weights. I know it goes away, but I really don't like feeling bloated AND sore!

Pro


6006




Harrisburg, PA

Subject:
RE: How to Prevent Soreness and Water Retention??
The water retention is odd. I'm not sure what to say about that, other than tell you to examine what you're eating. Are you sure it's from strength training, and not from a high sodium diet?
About the soreness - How long are you sore, and how bad is it? If you're just a little achey, and are recovered within about 72 hours to do another workout, then that's normal. If you can't get out of bed or brush your own teeth, and it lasts for days making it impossible to repeat a workout within 48-72 hours, then you're likely overdoing it, and should back off a little bit.
Also, part of the problem could be that you're only doing it 1-2 times per week. At that low of a frequency, it's almost impossible to make any kind of significant improvements. My suggestion would be to increase your frequency to 3-4 times per week with 1-2 days without strength training in between and back off on the intensity of the sessions a little initially. If you get to the point where you're not achey at all after a session, then you need to increase the intensity.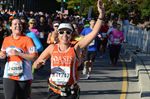 Member


128




, Florida

Subject:
RE: How to Prevent Soreness and Water Retention??
Well, I'm not sure about the water retention either. I'm sure it's not from high sodium. I am vegan on a whole foods/plant based diet and eat super low sodium. I've experimented with that for a long time. Is there something with muscle breakdown/repair that causes water retention?
Maybe it does have something to do with the lower frequency -- just once or twice a week. I'm not confined to bed sore, just pretty achy for 48-72 hours every time I go to a class. Going to have to experiment some more. Thanks for the input. Might have to try adding another day in the week of weights.

Expert


1028




Detroit, MI. Kinda.

Subject:
RE: How to Prevent Soreness and Water Retention??
What are your goals and SBR volume like?
Any time you're muscles are damaged/in a state of inflammation like they are after a good strength session, they are going to hold onto water during the repair process. The reason some people don't see this is either because they aren't doing real workouts or they do them frequently enough that the water never goes away. Who cares what the scale does from day to day? Look at the trend and measure progress with photos. I will admit that I dislike how my core gets a muscle pump like every other group - so after a heavy core workout, any little layer of fat I have around my middle bulges slightly. (is that the bloated part you're talking about?) I notice it far more than anyone else.
The other thing that can cause the gain/loss of several pounds of water overnight are carbs. Every gram of carbs you store also holds onto a few grams of water. I don't know enough about your diet or workouts to really get specific...and you shouldn't avoid carbs...just figure out how many you need and avoid every single carb in excess of that. I do know that vegan diets are often stupidly high in carbs. It's just hard to get enough protein without a lot of carbs from plant products...probably the majority of vegans/vegetarians I know don't have the knowledge or put the effort/thought into pulling it off.
Embrace the soreness. If it lingers - you may be shorting yourself complete proteins and/or sleep for the repair process. By complete, mean that very few plant sources have complete proteins - for instance - you can't build a muscle cell out of just the protein from beans, even though the label says it has 7 grams per 1/4 cup or whatever. It's missing a component called and amino acid that the body cannot make on it's own. You have to get that from another plant source (rice is common). Note that both of these item have a squat-load of carbs. Animal eaters don't have to think so hard because the proteins are complete.
Edited by Zero2Athlete 2013-02-23 7:14 AM

Elite


2608





Denver, Colorado

Gold member

Subject:
RE: How to Prevent Soreness and Water Retention??
Good points about water retention. Inflammation results in edema and overworked muscles are inflamed muscles. I would also add that if this is a "sculpting" class, you are likely using high reps, is that a fair assumption? If so, high reps deplete your muscles of glycogen stores. To compensate, your muscles try and store more glycogen. Glycogen requires water for storage in muscle tissue.

As for soreness, any new movement pattern to which your muscles are not adjusted will cause soreness. But your muscles will eventually adjust and the soreness will decrease, perhaps even go away. Contrary to popular belief, soreness does not necessarily mean you had a "good workout" and it is not necessary in order to make progress. It's just there.

As for preventing/recovering from soreness, nothing ever really helped me except perhaps for ibuprofen. But here is a list of things that I have seen recommended over the years to speed recovery:

1. Drink a carb and protein shake immediately after exercise. This is a good idea even if it doesn't seem to improve your soreness because right after exercise your muscles are primed to take in protein and start rebuilding.

2. Take vitamin C before working out. I've read that this may help but never tried it.

3. Do a light workout the next day. Seems counterintuitive but it helps. Oddly, the more frequently you can work out, the less sore you will be - up to a point.

4. Epsom salt bath. Never tried it, heard it helps.

5. Ice massage. Easiest way to do this is put some water in a small paper cup, freeze it, then peel away the paper as you rub the ice on your muscles. Tried it, didn't seem to help, a rather miserable experience.

6. Contrast showers. Alternate a minute of very cold water with hot water. Tried it, felt okay for a bit.

7. Beer. Not a joke - there is something in beer that helps relieve muscle soreness. Apparently, this is also found in non-alcoholic beer so it's not just the alcohol killing the pain. Tried this last week after skiing - seemed to help a bit.


2013-02-27 2:21 PM

in reply to:
#4639390

Subject:
...
This user's post has been ignored.