2013-04-22 7:20 PM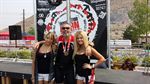 Master


1886










Gig Harbor

Subject:
Utah Training Partners Needed
I am doing a "training" road trip in May and am looking for training partners while I am in Salt Lake City.
All details are available in my Road Trip Thread.
Hoping you Utahans (is that right?) can come through for me and show me an awesome bike ride / run while there.

2013-04-30 9:57 PM

2013-05-05 12:55 PM

2013-05-05 10:53 PM

2013-05-07 9:49 PM

in reply to:
#4729853

2013-05-11 10:18 AM

2013-05-13 11:52 AM

in reply to:
#4737710

2013-05-14 10:17 PM

in reply to:
#4739957

2013-05-15 12:28 PM

2013-05-15 11:46 PM

2013-05-16 8:24 AM

2013-05-16 9:02 AM

2013-05-16 12:15 PM

in reply to:
#4745038