TTom

2013-04-22 7:38 PM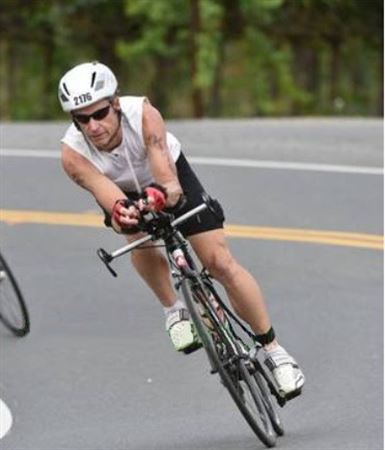 Regular


673






SF Bay area

Subject:
Newbie to Newbie - Practice OWS
Jeez, this turned out longer than I envisioned. Maybe you should get some popcorn before reading . . .
From one Newbie to another (and you know who you are) – Practice your OWS. Why? There are many reasons but one overriding one – it is very different to swimming in the pool, and different in many ways. You need to experience those differences before race day so that they don't get in the way of a great swim.
This will be my second season doing Tri's. Last year was two Sprints and one Oly, so I'm not a seasoned veteran, just a MOP'er who has recently gone through what you may be going through this season. I learned a lot during that season, but some was too little too late. I relearned many of the OWS lessons last week as I was on vacation in Maui and all of my swims were OWS for the first time since last September. All distances were the same, 1.2 miles from where I was staying to Black Rock on Kaanapali Beach. First day, conditions were perfect with flat water and no wind. Last day was wind 15-20 mph with choppy waves 1-2 feet once you got outside the break with inflows and outflows pushing you around. The funny thing, I did that last swim in much more challenging conditions 3.5 minutes faster than the one on the first day. Why, because it was getting used to OWS which, as I said earlier, is different. I was comfortable enough in the environment that I could focus on my stroke and swim much more efficiently. I actually started typing a post on this topic at the end of last season, but somehow got sidetracked. Last week reminded me of it, so thought I'd share what I've learned.
Physiological – The water last week was 75 degrees. Nice once you were warmed up, but chilly enough when you first get in that you feel your chest constrict a bit and breathing becomes shallow. 75 degrees is a LOT warmer than the water at many Tri venues (my Oly was 55 degrees) and if you just dash into the water when the gun goes off, you are asking for trouble. Take the time to get into the water and get the water into your wetsuit, let your body know what is coming and if at all possible swim 100-400 yards to warm up. Letting the body get used to the water temp reduces the shock, and having the blood pumping a bit from your warm up helps keep things looser and warmer.
Psychological – You've all read it before, there are no black lines to follow in OWS, and so you can become a bit disoriented and anxious. It's best to confront this on your own terms, not during the race. There will be hundreds of competitors thrashing the same patch of water you are trying to navigate; you will likely catch a foot, hand, elbow, etc. to the head at some point, and that can throw off your stroke. Your mind can become cluttered with lots of thoughts of sharks if it is salt water or the unknown below you as the bottom disappears. I'll admit that on my first swim last week I was peeking around for unwelcome critters but by the final one, not so much. You need to get into the lake/river/reservoir/ocean and become comfortable with the environment so you can focus on swimming efficiently and staying on course.
Technique – I don't pretend to be an expert here, and I'm sure that others more knowledgeable will chime in on many aspects of technique.
First off, you need to PRACTICE your sighting. Really. It is a skill easy to develop, but the time to develop it is not during the race. And don't think you'll just follow the person in front of you, there are tons of race reports you can read from folks who tried that and ended up way off course 'cause the person they were following was not sighting well. I'd suggest you plan to sight on a regular interval to keep you on track, something like every 10-12 strokes. You may have to deal with current that will want to redirect you, and if you don't sight regularly you may look up and find out that you are swimming all by yourself off to the side.
Unless you are a really great swimmer, don't start at the front or you will find out why they call it a washing machine. Hang back to the middle/rear and move off to the outside. It won't cost you that much in time if you start 15 seconds behind the leader, but you'll be more able to swim your stroke the way you want to.
Adrenaline will be high, so when you start out, purposefully keep your enthusiasm in check and swim at the stroke rate you have decided is right for you. You can use a tempo trainer during the swim portion (at least in the Oly I did) and if you've trained with one you might consider using it during the race to keep your stroke where you want it.
Breathing can be more of a challenge with all the people swimming right next to you and due to open water conditions. Whereas the pool is dead calm, you can get a day with OWS where you have current, waves and wind all conspiring to make breathing more of a challenge. And if you are swimming in salt water but have done all your training in the pool, you'll rapidly find out that swallowing salt water is WAY different than swallowing pool water (personal lesson in my Oly where I swallowed so much salt water I could not eat or drink for the bike or run portions due to nausea). Learn to rotate more if necessary and to breathe to whichever side is the calmest.
Since you'll be swimming in a crowded environment, seek out the time when your practice pool is the busiest, the lanes are full and you are swimming with the distractions that provides.
Wetsuit – Use 'em if you've got 'em. Some water is so cold you really don't have much of a choice, but in some races it is warm enough you don't have to wear a wetsuit. That being said, it seems like most everyone strongly feels that if you can wear a wetsuit in a race you should, as it will give you added buoyancy and reduce drag. If you are going to rent a wetsuit, rent it far enough in advance you can practice with it. And when renting, make sure you get the person renting it to you to ensure it is a good fit since it will likely feel too tight to you (but likely will be OK). And by practice I don't just mean swimming, I also suggest multiple dry land practice sessions at simply getting it on and getting it off. It gets easy with practice, but the first time or two can be quite the challenge. Make sure you get a can of TriSlide and/or a good supply of Body Glide or the equivalent. TriSlide makes getting the suit on and off a bit easier (consult YouTube) and Body Glide, applied liberally around the neck, under the arms, etc. will help prevent chafing. OK, now do a few practice swims in the suit as it is going to feel different and you have to get used to it. The tightness can make you feel like you have to work harder to breathe at first, but that goes away. The neoprene around the shoulders can make each stroke a greater effort. I found that the first suit I got as a rental was a bit too small in length and stroking seemed like a much greater effort, so exchanged it for another model that seemed to have very little added effort in the stroke. Renting early will give you the ability to swap wetsuits if necessary. When you are done with your swim, pretend it is the race and get out of the water running and starting the process of getting the wetsuit off (lots of good videos on this on the 'net) so you will know what to expect come race day.
I'm sure you've read articles or seen posts that say "No race is ever won in the swim, but many are lost there.", and I'd have to agree. If you go out too hard, you'll be too pooped to do well on the bike. If you don't sight well, you'll swim further than you have to. If you let adrenaline drive your swim, you may burn out early and have to struggle the rest of the way – and that can have an effect on the rest of your mental mindset for the bike/run. Make the time to practice OWS, you'll be glad you did.

BF JEFF

2014-06-12 11:46 AM

in reply to:
0

50




Subject:
RE: Newbie to Newbie - Practice OWS
Thank you. Lots of good tips. Did 2nd OWS last night with group. Learning so much from these. Last night sighting was still a huge issue. I was doing 1 stroke to correct course, then 2 more straight ahead before sighting again. I was so far off for so long. Sighting every stroke didnt help, it made me feel more tired (form is horrible when I sight, like coming to a stop) Finally I saw some improvement when I would use each of 3 strokes to correct before sighting again.
Instead of being way out (like I was in the first 2 laps) I started getting back on course quicker and was more relaxed because I wasnt being swept further and further from the group.
Another sighting / form issue - you mentioned the things you see in the water.

this was an issue initially, but then it became water clarity. Since I couldnt see the bottom, why look at it? I swim faster when Im looking straight down, but part of me kept wanting to keep eyes on the water level, where I felt I could sight a bit.
After your post, I found www.triwetsuitrentals.com I will rent a wetsuit next week for my upcoming OLY. I was concerned about renting because I figured, "if im spending $50 to try it out, then another $50 for the race, why not just buy one for $120-160?" This site seems good because I get the suit 10 days before and can add a week, (which I will) so for $60, I should be comfortable in it. I hope.


Edited by BF JEFF 2014-06-12 11:49 AM

TTom

2014-06-13 12:13 AM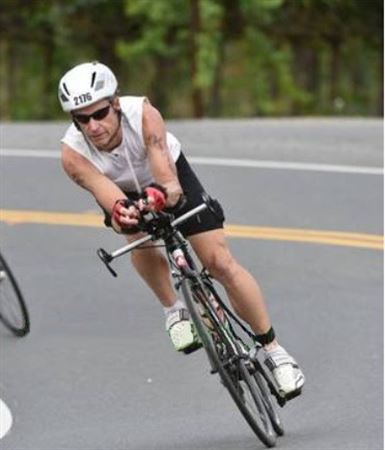 Regular


673






SF Bay area

Subject:
RE: Newbie to Newbie - Practice OWS
OP here with an edit to the original posting. Please be aware that you should not use a tempo trainer in an event as I originally wrote and as it appeared below:
Adrenaline will be high, so when you start out, purposefully keep your enthusiasm in check and swim at the stroke rate you have decided is right for you. You can use a tempo trainer during the swim portion (at least in the Oly I did) and if you've trained with one you might consider using it during the race to keep your stroke where you want it.
Subsequent to writing this, I got clarification from a USAT official that they now consider this illegal, equivalent to wearing headphones on the bike or run. I don't quite get it as a tempo trainer does not make you less aware of your surroundings in the water and thus create a potential safety issue as headphones on a bike would, but rules are rules and I don't want to be responsible for causing somebody to DQ!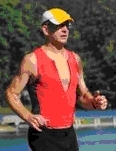 Expert


1117




Fort Wayne, IN

Subject:
RE: Newbie to Newbie - Practice OWS
I did an Oly last weekend and this was the first race where I really worked to NOT over-exert myself during the swim, keeping a nice even pace, and sighting often. I left the water feeling very fresh and my time was not much slower than it would have been if I had pushed harder (if you account for the 1/8 mile from the water to transition). Looking at my Garmin output of my swim performance, I was pretty much dead straight from buoy to buoy. Typically I've had a much more meandering course.

467








, Wisconsin

Subject:
RE: Newbie to Newbie - Practice OWS
Excellent post. There are lots of things to be done to make the swim more enjoyable, faster, and easier. Much of that is covered here. At my first tri this last Sunday it seemed like a lot of first timers were nervous about the swim . . . yet they really had done little or nothing to prepare for OWS except swim in a pool!