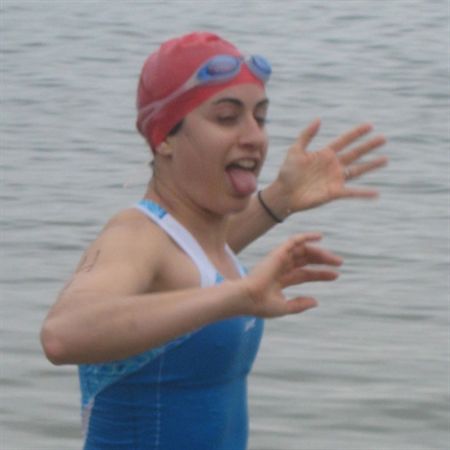 Extreme Veteran


856








Detroit, Michigan

Subject:
First ride on my triathlon bike: That was ... educational. I'd love some feedback.
First time the weather has been nice enough to take my new Cervelo out for a ride. I headed out to our island park for a few (5.5-mile) laps around. I was terrified of crashing, flatting and/or having to stop and being unable to unclip in time.
I spent a few minutes riding on the grass to practice clipping in and out ... and I fell over almost immediately! It was almost a relief, like "OK, got that out of the way." After a few minutes I decided to head to the bike lane.
I was so scared of being unable to unclip in time that I rode the entire first lap with my shoes resting on top of my pedals. I clipped one foot in on the second lap. I started the third (last) lap with both feet clipped but then had two situations right in a row where I should have stopped (traffic going the wrong way, someone trying to talk to me) and I just zipped around them instead. That made me so nervous, I unclipped one foot for the rest of the lap. I feel like I have to anticipate a stop in order to unclip in time -- I can't just wham, unclip. This makes me nervous that I will be unprepared in an emergency and crash and/or fall over.
I was afraid I wouldn't be able to balance properly on the skinny, skinny wheels but I was surprised to find that wasn't really a problem. I WAS surprised at how touchy my new bike is! I imagine upgrading from my steel Huffy was like going from a semi truck to a Ferrari. Just THINK about taking your hand off the regular bars and you start to swerve. I was nowhere near ready to try getting into aero. You really have to prepare -- shift your weight, slowly lift your hand up, etc. That took some getting used to.
I didn't do a lot of gear shifting, and I never tried to come out of the small ring. As a result of this and my general fear I was making painfully slow time, something like 11-12 mph.
Surprise body part that hurt -- my triceps! Maybe from holding myself up on the bars? I'm going to have to make minor seat and aerobar adjustments (my knees kept hitting them).
All in all, I think it was a good first ride, but I obviously am going to need more practice. Any tips? Any ideas for getting over my clipping fears? Maybe I can tighten them to be super sensitive -- at this point I'd rather clip out accidentally than fall over with my feet still attached to the pedals. Thanks, all!