2013-05-02 9:20 AM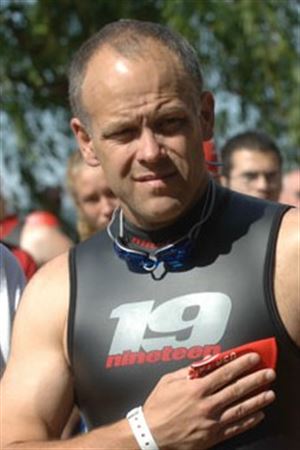 Pro


5123




Canandaigua NY

Subject:
kenj triathletes in training - IM and HIM focused - Closed
WHEN CAN YOU START: I can start right away.
GROUP FOCUS: I would like to focus on HIM or IM distance. (any past kenj group member always welcomed!)
NAME: kenj/ Ken Johnson
STORY: I am 48 years old and live in upstate NY in the Finger Lakes region, near Rochester. In early 2006 I decided I had enough of being overweight. At the time I weighed about 285 at 5 feet 8 inches tall so I was in rough shape. I played mens league hockey once a week and was struggling to keep up with guys that when I was younger and in better shape I had no problem staying with. So I decided to do something about the weight and started Nutri-system. Part of the program included 30 minutes of working out per day. Did not matter if it was walking, weights, or whatever got me moving. For the most part I walked on the treadmill. By early spring I had lost about 50 pounds so when I was able to move outside I started running some. By the end of the summer I was down almost 90 pounds, but was struggling with achilles issues running every day so I picked up a bike and started riding some. Found BT and connected with some local members and started doing some 5ks and thought about tris. The wildcard was the swim, but I joined the local masters group with the encouragement of Dexter and I learned to swim, sort of.
I did my first tri in June of 2007, another in July and decided watching IMLP that year on the net to sign up for 2008. Probably not the recommended way of getting to that distance, but I downloaded a plan from BT and finished with a respectable time. Since then I have done several halfs, many more sprints and oly's and another Ironman in 2010.
Currently the weight drops during the season and I let it creep up a little during the winter but I am safely past the 5 year mark and happy with the way I am maintaining my health and weight.

FAMILY STATUS: I am married to Connie, who is not only a great wife, but my biggest cheerleader! She never questions any of the crazy ideas I come up with and is always there to support me! I also have two adult children. Plus a chocolate lab Molly and Buster the crazy cat.

CURRENT TRAINING: Starting in January I begin training for the 2013 season. I am using a training plan program with a local coach. It is a little less structured than a one on one program but offers a lot more feed back than I am used to since I have always done the self coaching. Training for my first HIM in Florida in mid - May and the training is going quite well.
Since I have been self coached using predominantly BT plans, I am fairly knowledgeable about most of them.
This time of year I also include a fairly consistent strength training regimen. Mostly functional type training and plyometrics more so than typical weight lifting.
LAST YEAR'S RACES: 2012 was mostly a bust as far as triathlons go. I had to have shoulder surgery in May but am now back swimming regularly with no issues. I did complete 2 half marathons and several shorter running races though.

2013 RACES: It will be a fairly heavy year of races with 2 HIM's starting in May in Florida and another local HIM in July. Additionally I will be participating in 2 Iron distance races in 2013 starting with a new unbranded race locally in August and IM Florida in November. Sprinkle in a handful of running races and shorter local tri's over the course of the year.

WEIGHT LOSS: Missing a lot of the training volume that I was used to allowed my weight to sneak up a little, but I started the year in about the same place I do most years. I have managed to drop 20 pounds since the first of the year and am now at a point lower than I have been since my early high school days.
WHAT WILL MAKE ME A GOOD MENTOR: I think I will be a good mentor as this will be my 6th group. I have been fortunate that all of my mentor groups have had some great participants that add to the conversation in a very positive way! I have enjoyed that aspect the most! I enjoy working with both experienced triathletes looking to go to a longer distance, or just looking for a group to offer them support. I also have enjoyed seeing new athletes set goals and put a plan together to accomplish their first triathlon, regardless of their experience. From weight loss to racing, I have done a lot right and a some things wrong and I think that experience is something I can share with others trying to figure this out. Additionally, I love triathlon and enjoy not only the training, but the positive support that most people in this sport offer each other. These mentor groups are a great way to continue this support away from the race venues and especially in the off season!
I also know that a few folks from my past groups will probably join in and since they could probably run their own group if they chose to, their experience helps lift the entire group and they are all good at sharing their experiences. I look at the mentor as not necessarily being the person with all the answers, but being responsible for keeping people focused and moving towards their goals.
Although I travel occasionally, I am usually pretty quick to respond to posts which I think helps keep the group focused!
Edited by kenj 2013-05-14 8:12 AM

2013-05-02 10:33 AM

in reply to:
#4723818

acv

2013-05-02 11:03 AM

2013-05-02 11:09 AM

in reply to:
#4724081

2013-05-02 12:32 PM

in reply to:
#4724164

2013-05-02 3:09 PM

in reply to:
#4724483

2013-05-02 3:09 PM

in reply to:
#4724560

2013-05-02 3:10 PM

in reply to:
#4724660

2013-05-03 3:33 AM

in reply to:
#4724825

2013-05-03 3:34 AM

in reply to:
#4725032

2013-05-03 3:35 AM

in reply to:
#4725238

2013-05-03 3:38 AM

in reply to:
#4725350

2013-05-03 10:18 AM

in reply to:
#4725692

acv

2013-05-03 11:54 AM