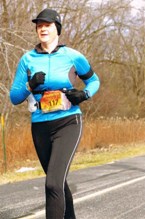 Expert


683







Subject:
PSA re: iron deficiency
Hi everyone--

I'm currently training for my second IM, but had noticed this spring that no matter what I did, my times on the swim and run were getting slower, my HR was spiking, and I found it really hard to keep going sometimes. At first I blamed allergies, and the trees on the East coast were indeed trying to kill me, but this circumstance lasted way longer than it should have. So I saw my doctor last week (I'd been out of town for a couple of months) and asked for not only a referral to an allergist (because not training outside is not an option!) but a ferritin test-- one that looks at/for the amount of iron stored in the bone marrow that the body can use to make red blood cells and thus deliver oxygen where it needs to go. (Full disclosure: my mom actually sent me a useful article from the _Globe and Mail_ newspaper (*waves to fellow Canadians*) about precisely this test-- turns out that one of the things that led to Paula Findlay's heartbreaking Olympics was a seriously low ferritin score-- and doctors don't usually see this as part of a typical CBC. (No, not the broadcaster, fellow Canadians...)) My doc agreed, drew some blood, and off I went.

She called me the next day: sure enough, my hemoglobin counts were slightly low, but my ferritin was in the basement. So I'm now on iron supplements, and it should take 1-3 months (I hope) to get back to normal.

Low ferritin can apparently strike endurance athletes, particularly female ones-- so I thought I'd put this out here as an FYI: if you're feeling craptastic and not sure why, might be worth asking your doc for a ferritin test whenever you go and see him/her.

Happy training, everyone!

2013-06-25 6:52 PM

2013-06-25 8:00 PM

2013-06-26 8:10 AM

in reply to:
KeriKadi

2013-06-26 11:12 AM

in reply to:
chayes

2013-06-26 8:41 PM

2013-06-26 9:41 PM

in reply to:
0

2013-06-26 9:59 PM

2013-06-27 10:01 AM

2013-06-27 11:41 AM

2013-06-27 11:47 AM

in reply to:
0

2013-06-27 11:50 AM

TC3

2013-06-30 10:47 AM

RZ0

2013-06-30 1:31 PM