2013-08-09 1:28 PM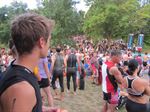 New user


110



Subject:
Upcoming First Triathlon! Help!
Hello,
My name is Zach (15 years old) and I have signed up for my first triathlon in two weeks time. I am physically prepared for most of the triathlon. I am a club swimmer that swims everyday for two hours, averaging 3-4 miles a day. After those practices I run home, which is roughly eight miles. I bike and lift weights every other day to help achieve a better fitness as well. But I am still very new to this sport. I am quite lost at what I need for race day and how to perform correct transitions. The only gear that I have right now is a bike, goggles, shoes, shorts, shirt, sunglasses...... but I don't know what to wear for the swim and pretty much the everything. Another thing that I need help understanding is "spotting" during the swim. I just need some basic information on what I need to know to perform my best on race day

I need all the help I can get, so that is why I came here.
-Thank you
Zach

2013-08-09 2:08 PM

in reply to:
MOlsen

2013-08-09 2:39 PM

2013-08-09 2:39 PM

2013-08-09 2:46 PM

in reply to:
Donto

2013-08-09 2:49 PM

in reply to:
Donto