2013-08-11 7:37 AM

66




Subject:
Calling PTs and knee gurus - what is up with my knee

For what it is worth (probably not much so will also see a professional in person (again)), a classical request for internet diagnostic of my knee issue.

I have for some weeks now have had issues with my knee. No real pain but more like a nagging feeling.

It started mid-July during an intense bike training week with a lot of climbing with low cadence - 3-4 hours of total riding per day approx. At that point it was nagging on the upper inside of the knee. I think that is the most serious nagging I have had since then.

At that point I went to a knee specialist who did various movements with my knee which did not cause any pain or nagging at all and he concluded it was most likely inflamation and gave me some antiflamatory pills and recommended to take a week off from all training. I took the pills for some 5 days but kept running, biking and swimming - albeit less bike and swim than normal. Run has been some 60-70 km per week as I am training for a marathon early october. It is probably a bit more (10% maybe) volume than I have done usually but no extreme ramp-up in run volume.

The nagging is still there. The antiinflamatory pills helped but once I stopped taking them, the nagging came back. The interesting thing is that it is not present during swim bike or running but some hours after it starts nagging - and mostly after biking or if I do a lot of kicking during swimming. Run is what causes least nagging. Also it is not in a specific location only.

Last weekend it was basically completely done but I was moving Saturday and Sunday, carrying a lot of boxes and furniture around and that seemed to make the pain come back.

The nagging is not in a specific part of the knee but moves around. Also, it is not a real pain. On a 1-10 pain scale it is ~2. I feel there is something going on but it does not hinder me in any way in walking, training, moving around etc.

I can provoke the nagging and slight pain when I push hard certain places on the thigh, especially the IT band and some 2-3 inches above the knee on the inside of the knee. The vmo i think its called

Any idea about what this could be?

Any suggestion for what to do about it? I plan to
-- take 6-8 days completely off from swim bike and run
-- ice
-- massage
-- see a PT

I think at this point after ~4 weeks of nagging in the knee it is time to take time off and see if that cures it. If not, it is probably something more serious.

I also contemplated continue training at 50% of run volume and kill swim and bike but think it is better to stop training completely as it will either make me recover completely or give me an indication that something more serious is going on. If I do a week of light training and it is still there, I do not yet know if it is something serious or if it can be cured with a week of full rest. In other words, I am going for the conservative approach and taking a week off although it sucks.

Any points of view?


2013-08-11 7:49 AM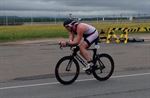 Veteran


487









Nova Scotia, Canada

Subject:
RE: Calling PTs and knee gurus - what is up with my knee
Wow I could have wrote this as I have the exact same thing right now. My pain usually comes on after a hard bike session and presents on the inside of the knee above the joint line. Over the few days after the "tightness" or discomfort will move down and around the knee. I'm guessing this is just the inflammation or swelling moving around in the knee. Running doesn't seem to make the problem any worse, but I can feel it when I run. For me the time I really feel it is when I'm pushing out watts above FTP on the bike.
I finally got into see PT on Friday and he recommended a few different stretches and exercises to strengthen the glutes as he believes that weak glutes and tight hip muscles are causing my knee to want to rotate outward while cycling. This is kind of what I expected.
Ill keep you posted on how it goes, and if you wouldn't mind posting what you hear from your professional, Id love to hear it.
Edited by BigDaddyD79 2013-08-11 7:54 AM

2013-08-11 7:52 AM

in reply to:
#4826135

66




Subject:
RE: Calling PTs and knee gurus - what is up with my knee
That indeed sounds like what i have.

Would you mind sharing those stretches?

Did he tell you to rest? No bike? Icing and antiinflamatories?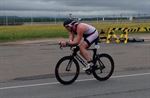 Veteran


487









Nova Scotia, Canada

Subject:
RE: Calling PTs and knee gurus - what is up with my knee
Well he's a cyclist as well and he knows I wont really give up the bike, but he told me to take it easy. He did ultra sounds and I have two more visits this week as I have a Oly race next weekend.

Ill try and describe the stretch as best I can. Lay on a table so your legs can hanging off at the knees. Bring your knees up and hold one tight to your chest while you lower the other slowly until its hanging off the table. I have to try and concentrate to keep my leg from wanting to rotate out a bit. You should feel a stretch in the hip area.

For strength, I'm laying on my side and raising my leg, from there I hold it up and back behind me a 10 count. I rest and repeat 4-5 times. The goal is to only activate the glute, and not the muscles in the front of the hip. He also recommend getting back into the gym and doing some easy deadlifts and single leg squats making sure to keep the knee lined up straight.

Hes going to look at my cleat alignment as well to see if changing it can help my knee tracking.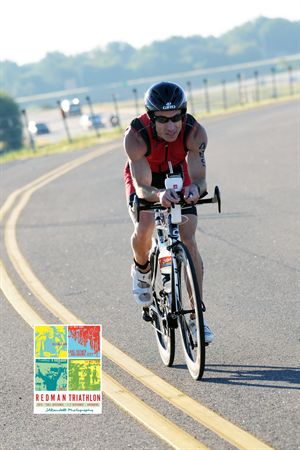 Expert


1643






Oklahoma

Subject:
RE: Calling PTs and knee gurus - what is up with my knee
Try streching and rolling out your quads.

TriTC

2013-08-11 11:58 AM

35



Subject:
RE: Calling PTs and knee gurus - what is up with my knee
I'm having a little bout with this as well.
Some things I did that HELPED ME...may or may not be right for you:
On Bike: pick up cadence and don't push so hard on bike and focus on pull....watch to see if you are sliding forward in your seat thus causing more pressure on knees. I raised my seat a little more.
Stretching: Half Lotus (I cannot do full lotus).....be very gentle with this...has worked wonders for my IT band. Straight back is best.
Foam roll: Hammies, Quads, IT Band, Hips
Strength: All the IT band excercises (lateral leg raises). Leg extensions and curls ---> amazing, I superset them which makes it super quick
Hip abduction AND adduction.
For me, huge help was taking a thera band tieing it to pole and one ankle and pulling leg from spread --> together. An inward movement.
I also do outward, forward, and backward....but inward helped the most I believed as I was already doing exercises that strengthen the hips external/lateral movements (common IT band exercises).
Like someone said, it's most likely a pulling outward from tight IT band, weak/tight hips, imbalances in hip/glute strengths, quads, hammies.
Hope this helps. Has been working for me.
Edited by TriTC 2013-08-11 12:01 PM


Master


2856









Kailua, Hawaii

Subject:
RE: Calling PTs and knee gurus - what is up with my knee
do have this in both knees or just one ?

I find my right knee has this problem, but my left is perfectly fine...

I can relieve the problem by some of the thing suggested above...like:

1. varying cadence
2. seat position/height

I also find that if I increase the pressure slightly to favor the inside of the foot, the problem diminishes.

Also by slightly rotating my foot in the cleat, this seems to help as well.

Probably I have worn spots in my meniscus or something like that and it gets irritated....by changing the pressure points inside the joint, the problem is reduced.

my amateur thought on this.



2013-08-11 3:22 PM

in reply to:
EKH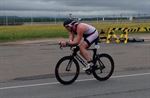 Veteran


487









Nova Scotia, Canada

Subject:
RE: Calling PTs and knee gurus - what is up with my knee
Originally posted by EKH

Try streching and rolling out your quads.

I agree that this can help it feel better, but it won't solve the problem if its related to a muscle imbalance.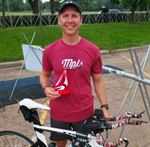 239





Subject:
RE: Calling PTs and knee gurus - what is up with my knee
My problem lately is that my knees feel absolutely exhausted for a couple days after a weekend of riding. There is no pain of any kind. I'm assuming it has to do with positioning on the bike.
Edited by dbrook1 2013-08-11 6:38 PM

66




Subject:
RE: Calling PTs and knee gurus - what is up with my knee
Went to the pt yesterday. He did a lot of examination and concluded its unlikely to be an injury but most likely tight muscles and imbalance. Though he thought its good to do MRI to be sure.

He also spent a kotbofbtime loosening up around vmo and it band. Really seems to help feeling much better in my leg

Lesson learned about importance of stretching and strengthening!