2013-09-16 3:14 PM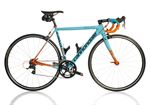 Extreme Veteran


511



St Johns, Florida

Subject:
Did anyone else see this blog ?

(Written on Sunday, Sep 8, 2013)
I did the Toughman triathlon today (1.2 mile swim, 56 mile bike, 13.1 mile run), serving as a guide to my friend Dan Berlin, who lost his sight to macular degeneration. My friend Alison Berna did the race too, her first ½ Ironman (showing off her knowledge of the periodic table, she called it her first 1/2 Feman). It's a well organized event in a beautiful setting. Here are some highlights & lowlights from the day:

Most impressive: watching Alison breeze through the race, as if it were no big deal. Dan and I saw her several times throughout the event, and she was always smiling and moving smoothly. She even assisted a deaf athlete during the 1.2-mile swim who asked her to stay by his side, in case he needed help.


Most anger provoking: Blair Cullen of Ossining, NY, age 35, took 2nd in his age group in the race. He was running hard toward the finish line as Alison was headed in the other direction. Alison turned to wave to her cheering kids and got in his way. I've been in Blair's situation before and understand how frustrating it can be to have to dodge another athlete as you're pushing hard at the finish of a race. I've yelled sternly, "Watch what you're doing!" or "Be careful!" Blair chose to hit her hard with his right hand – see pics. Hey Blair, the woman you hit had volunteered to assist a disabled athlete in the swim, caring more about helping others than setting a PR. Look at the anger in your face as you knocked her over and think about why you race. Hold up your 2nd place medal and consider the value of that piece of hardware to your ego compared to how her kids, ages 8 and 3, felt watching you hit their mom.

Alison's husband and friends captured everything on film, and the race director has reported the incident to USAT, the governing body of triathlon races. So hopefully Blair will face a consequence for his action and appreciate the opportunity to reflect on his priorities. In an example of something good coming from something bad, Alison met Dr. Bill Begg. A fellow competitor in the race, he saw her crying after she had been hit and asked if she was okay. The two ran together for the next 8 miles. The director of medical services at Danbury Hospital, Dr. Begg treated victims of the Sandy Hook Elementary School massacre and founded United Physicians of Newtown, a group of doctors that came together with a single platform on gun control after the attack. Cool dude and now another of Alison's many friends.


2013-09-16 3:16 PM

2013-09-16 3:40 PM

in reply to:
lisac957

2013-09-16 4:25 PM


2013-09-16 4:28 PM

2013-09-16 4:41 PM

2013-09-16 4:42 PM

2013-09-16 5:39 PM

2013-09-16 10:45 PM

in reply to:
Goosedog