2013-11-04 9:20 PM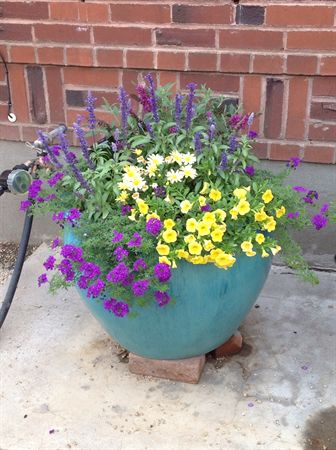 Elite


3972











Reno

Subject:
Fence and neighbor drama
Early this summer I removed and rebuilt a fence around my back yard - in town neighborhood - bungalo type houses with small yards - a courtyard almost. my house is about 25 feet from the neighbors's house. My husband and I paid for a land surveyor, and decided to take on the entire cost of the new fence so it would be "ours", on our side of the property line. The lady said "we don't want trouble over a fence". There had been some preliminary discussion of sharing the cost and putting it ON the property line, but we backed away first, to their obvious relief. A quick google search shows that Joint ownership leads to issues. The renters in the house were really "put out" by the process even though they complained about the rickety fence, they complained about the week it took to happen and their cats couldn't come outside. The landlords seemed to be just business about it. It was a licensed fence builder who pulled a permit and all. We paid about $3K altogether, including the sealing we just did on all sides (7.5 hours and a heck of a mess). They cut down the bushes on "their side" of the old fence that was really on our property, and I paid someone to dig out the roots so they didn't grow back.
The survey showed that the old fence was built about 18 inches on our side - that was a surprise bonus for us, and the land owners behind us said they thought it was like that and just said "it is what it is". They were glad that they would not have to tear up any patio, and I was happy for them because it is set up very nice over there with a roofed deck and patio. The roofed deck is now our issue. With the new fence line, the deck roof overhangs the fence, and when it rains or snows (and it does in Nevada, and then is scorched with sun), all the water that hits that section of their house roof and porch room will be funneled down onto the section of our fence. They are recent purshasers of the house - it had been in the same family since 1920 or so, when it was built, until recently. They have done alot of work on the house - the husband does all the work and very maticulously. They have a "family trust" and own about 12 properties in the area. Good for them, really.
So, back in July I left her a voice mail. I sent her a letter. Just recently, leading up to the sealing and needing access to that side of the fence, I left her numerous voicemails about it. And just this last week, with their sprinkler system leaking and standing water on the fence line, I mentioned it again in voice mails. I got a response when I texted her a photo of the standing water just my side of the fence (if I ahve water standing 4 inches below the surface 12 feet from my basement, so does she. I got a response about the standing water that they turned off the sprinkler system water and it apears to have solved the issue - the water had drained away and not wound up in my basement. But still no mention of what they will do about the porch overhang. All I ask is a 12 foot section of gutter put on it and drain the water away from the fence. With the husband being so handy - what would that cost? $150 and an afternoon of his time?
If I was really handy, I would weld some really cool structure to catch and harvest the water for my own garden. But I am not. I am now wishing that we just removed the old fence and told the neighbors that we didn't have money to put in a new one and left it to them to decide if they wanted one or not.
Does anyone in the CoJ community have any advice about the super effective letter I will send them threatening involving the city. I am calling the city tomorrow to get more information, but an acquaintance of mine tells me there is a 5' set back for decks and porches. Probably should have done so before asking CoJ..... anyway, I really don't want them to have to remove the roof - just be reasonble and neighborly.
Anyway - give me your best wording! Or explaine nicely to me where I am being unreasonble, 'cause I really can't see it.

2013-11-05 5:01 PM

in reply to:
#4892399

2013-11-05 10:06 PM