2013-11-05 6:05 PM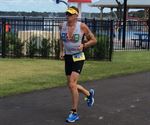 Veteran


1011



Deep South, Georgia

Subject:
Stretching/Flexibility
I wanted to get some thoughts regarding stretching and good flexibility as it pertains to run speed.
I've never considered myself very flexible but of course I've never put a real effort into improving it either. So my question is do you feel improved flexibility can/should lead to better run speed? Is it worth focusing on? I always do the obligatory 5 minutes of stretching before a run or workout, but that is it. Is it worth the time to really focus on a daily stretching program? For the record I am 42 and consider myself an average runner at best with a current 5k time around 21min and 10k around 45. I don't run anything longer than about 7 miles. I averaged about 60 miles per month this year, so yes I plan to increase volume for 2014 but am looking for other ways to maximize gains. Thanks!

2013-11-05 7:52 PM

in reply to:
0

2013-11-06 6:35 AM

in reply to:
bcagle25

2013-11-06 1:58 PM