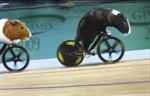 Oakville

Subject:
Off-season bike upgrades - recommendations please
I had considerable improvements on my bike performance this past racing season and, with Black Friday approaching, I was wondering if any more gains are possible (aero or otherwise) through equipment upgrades.
I have a fairly loose budget of around $500, but could be convinced to increase it if the benefits make sense.
Here's my current setup:
2012 Felt B16 which is stock other than the upgrades below
FLO 60/90 wheels with Wheelbuilder rear cover
Profile Design "Aerodrink" bottle
Conti GP4000S tires with latex tubes
Adamo Road seat
Giro Advantage 2 helmet
stock cassette (11-25) with an alternate 11-28 from my Trek 2.1
stock FSA Omega Compact MegaExo 52/36T
I don't think there are any "cheap" aero gains left for me, but let me know what you think.
I will be competing in mostly Sprint distance races next year with a few Olympics. The elevation in southern Ontario is typically fairly flat with a few courses described as "rolling hills".
The elevation profile of the hilliest course is - http://www.mapmyride.com/ca/bracebridge-ontario/bracebridge-olympic-bike-course-route-199905672
One option is to get a power meter, but all of my training in the Winter will be on TrainerRoad and once the weather warms up in late Spring only my long ride on the weekend would be outdoors. I would definitely look into power if I start doing long course races, but don't think it would add much for me in the Sprint and Olympic distances.
My last bike fitting was in March and I intend to have another fit done after a session of the Jorge Winter plan.
Any recommendations?

JAYCT

2013-11-21 10:46 AM

Mahk

2013-11-21 1:22 PM