2013-12-18 2:56 PM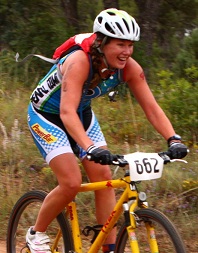 Pro


6192








Subject:
What off-season? Early season racers Mentor Group - OPEN!
GROUP FOCUS: The focus of this group is on early season races. We're not in the off-season - we're IN SEASON this winter!
NAME: ratherbeswimming / Elaine
STORY: I'm an engineer, and Army National Guard Officer, and a triathlete. I've been tri-ing for quite a few years and coaching for two. I've got a strong background in swimming (age 5 through college and then masters...) and I've been running a little longer than I've been cycling. I'm USAT and USAC certified.
FAMILY STATUS: single, living with the best dog ever.
CURRENT TRAINING: I'm Olympic focused. I'm chasing a dream of being able to try out for the Army tri team. This involves cranking out a 2:35 qualifying time! That time may get my foot in the door, but might not get me on the team.
THIS YEAR'S RACES: Duathlon Nationals, Xterra trail runs, Ragnars... spent most of 2013 in Army training!
2014 RACES: My first shot at sub-2:35 is SuperSeal in San Diego on March 16th. Rest of the season is TBD - I've got a spreadsheet of races to choose from!
WEIGHTLOSS: I'm a few pounds over a decent race weight - I'm working on that right now

WHAT WILL MAKE ME A GOOD MENTOR: I love mentoring, coaching and triathlons... I'm active here, and on social media in general. I'm happy to be a source of motivation and accountability. I feel that it's important and useful to bring together a group of triathletes working towards a large near-term goal while the majority of the triathlon world is putting in some solid off-season hours. Let's talk training, racing, strategy, nutrition, pacing, clothing, gear, and whatever you need to get yourself ready for your late winter/early spring race!
So, if you're chasing big goal in January, February or March - join me here!

2013-12-26 12:19 PM

2013-12-26 6:17 PM

2013-12-27 1:49 PM

2013-12-27 1:49 PM

2013-12-27 3:35 PM

2013-12-30 9:33 AM

in reply to:
skankey

2013-12-30 9:33 AM

2013-12-30 11:00 AM

2013-12-30 11:22 AM

2013-12-30 1:44 PM

2013-12-30 3:26 PM

2013-12-30 3:50 PM

2013-12-30 8:50 PM

2013-12-30 9:13 PM

2013-12-31 4:43 PM

2013-12-31 5:46 PM

2013-12-31 6:00 PM

2013-12-31 8:23 PM

2014-01-01 1:36 PM

2014-01-01 9:48 PM

2014-01-02 8:52 AM

2014-01-02 8:52 AM

2014-01-02 8:53 AM

in reply to:
skankey