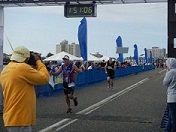 Member


75





Waldwick

Subject:
Power Meter choices
I am sure this is a popular question/subject, but I will throw it out there anyway....(no I didn't bother to search old threads)

I have been researching and have narrowed it down to two main choices, Quarq Sram Red 22, and Power2Max, with a remote 3rd choice of Garmin Vector.
Current ride is a P3 with Sram Red RDR and Force FDR BB90 (I believe?).
I like the idea of being able to Change out Chainrings if I go with the P2M.
From what I have read the Quarq is a "step up" from the other 2 possible choices
Money is always a consideration, but the 3 are fairly close in cost,
Quarq $2000 +/-
P2M $1500 +/- with new chainrings etc
Vector $1600 +/-
So for an extra $400-500 for Quarq not that big a deal all things considered.
My other questions/concerns are the unknown costs and upgrades I will end doing or "having" to do depending on which product I choose.
1) If I choose Quarq will I need to change out front/rear DR's?
2) If I choose P2M I am thinking of changing CR to 52/36, again question #1 applies (FDR/RDR?)
3) Garmin Vector none of this applies and I can swap between TT and Road bike. (drawback, pedal is a prone area to damage) plus I will most likely end up going compact or semi compact also $$$
Of course if it were spring and I wasn't snowed in, I probably wouldn't be having this conversation right now, I would be out riding my current setup
Look forward to all the input
Boom



2014-02-10 9:50 AM

2014-02-10 10:57 AM

in reply to:
jhouse4


2014-02-11 6:33 AM

in reply to:
marcag