2014-02-15 11:26 AM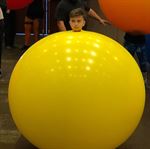 Master


2259







Sunbury, Pennsylvania

Subject:
Am I just a baby or is there some secret to saddle comfort?
Full disclosure - in my first three seasons of tri, I didn't spend enough time on the bike. I know that. I am trying to remedy that for this year. It's getting hard to do that.
All I have at my disposal is trainer time right now, as I am in PA and we are again coated in snow. I am not buying another bike for snow, so forget the suggestions I HTFU and get outside.
My limiter in previous longer races has been my discomfort in the saddle. My legs still had plenty of pedaling left, but the body just couldn't sit that long.
Yes I am huge. I do not however, have a large posterior. I am putting a lot of weight on those bones. It is coming off, but slowly. I see plenty of larger people on bikes, doing centuries - they survive.
I do not have the budget to try out 15 different saddles. I did get my hands on an Adamo racing saddle with a cutout in the front, which I thought was helping with perineum numbing, but soon discovered that the sit bones were worse off. I put the softer saddle back on.
I am very close to putting a big wide beach cruiser type comfort saddle on my bike and being done with it. I don't care if "real" triathletes mock it at races, the same people would mock my whole setup and body anyway, so who cares about one more thing.
BUT - if doing this would set me back from the possibility of making progress toward eventual comfort on the "right" saddle, I don't want to do that.
If you've been through this - what the hell? Do I just need to put in 2000 miles of stiff trainer riding to get used to it? Do I give in and put the silly seat on? Do I give up cycling and triathlon? Seriously, I'm just about ready to throw it in once again, since it seems like even the most basic stuff that is taken for granted by all you actual athletes - it's a mountain to climb and it makes no sense. It's not like I have a disability or injury, or legitimate reason for this to be difficult. No it's just - "I'm too fat for a bike and it hurts." - At what point do I take the hint and abandon this thing? Am I just a giant freaking pansy? The bike is supposed to be the part that most triathletes like the most. It's allegedly the sport I can do longer in my life with less wear and tear. So far, that is not bearing out.
I don't mind doing something hard and painful if it leads to progress. I just doubt that I'm ever going to make that progress.
Sorry for the "poor me" negative nonsense, but my Seasonal Affective Disorder (self-diagnosed) seems to be especially affected now that I actually WANT to be outside, and the inside stuff is driving me to tears.
Edited by TheClaaaw 2014-02-15 11:27 AM

2014-02-15 6:26 PM

in reply to:
spudone

2014-02-15 6:45 PM