2014-05-02 10:53 AM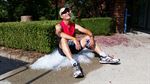 100



Subject:
Encouragement for beginner swimmers
This is my 4th season of tri training, and I finally think I'm making a swimming breakthrough. I feel like I'm finally ready to join a Masters workout program (in the last lane, no doubt).

I have read many threads over the years on swimming advice, and just wanted to add my 2c about what actually worked for me. They usually are by either beginner swimmers asking questions or experienced swimmers giving advice. I'm kinda right in the middle here so I wanted to give my perspective.

One key ingredient here is perseverance. You just have to put in the time doing the work, be patient, and you'll see results. I think I'm fairly average, long time running dude, got into tri and had to learn cycling and swimming. Cycling was much like running, just time in the saddle, muscling it out (which I now love BTW). Swimming is a totally different matter, as everyone has discovered. The advice you get generally falls into two categories. Most say, to get good at swimming, you just Drill, Drill, Drill. Or, occasionally, to get good at swimming, you just Swim, Swim, Swim.

Here's what worked for me. BOTH! I did lots of drill sets to learn specific skills, and then incorporated that into free swim. I went to several coaches, including TI, a USAT tri coach, and a competitive aquatic center with Olympic hopefuls as coaches. There were things to be learned from all of them. I would highly recommend you seek out some coaching from any of these sources. I think swimming is all about proper technique in the water, i.e. balance, streamlining, and propulsion. But in order to see any results, you gotta put in the mileage (or KMs if you prefer). So it is a balancing act, between learning the right techniques, and then practicing them enough to see results. Sounds simple I know, but it takes a lot of time and patience to see results. In my case, I spent 3 years really learning this stuff, going from barely able to complete a 400m workout, to rolling through 2,000m+ workouts with good form.

Not tooting my own horn here, believe me, I'm nothing special in the water (like 2:00' x100m). I think that most any person can accomplish what I did. But you gotta be willing to put in the work. Once I was able to swim 1,000m+ in a workout, things progressed at a steady rate. This year has been especially rewarding so far, as my workout consistency went up, so did my competence in the water.

So, again, not claiming to be any expert on this stuff, just wanted to share what actually worked for me, and hopefully encourage those struggling with the swim to hang in there and punch through to the other side. If I can do it, you can do it.

2014-05-02 3:08 PM

2014-05-02 6:13 PM

in reply to:
nx882

2014-05-02 9:05 PM

2014-05-03 10:33 PM

in reply to:
brigby1

2014-05-03 10:35 PM

2014-05-06 3:19 PM

2014-05-06 3:24 PM

2014-05-06 4:33 PM

in reply to:
bcagle25

2014-05-06 5:29 PM

2014-05-06 6:38 PM

2014-05-06 11:53 PM

2014-05-07 8:52 AM

in reply to:
pnwdan

2014-05-07 10:25 AM

in reply to:
pnwdan