2014-05-19 8:31 PM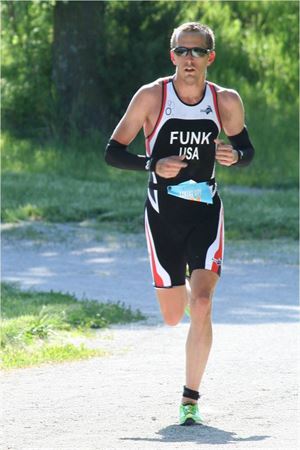 Member


228





Lenexa, KS

Subject:
Funked Up Triathletes - Season 2 - Olympic/Sprint Focus - Closed
GROUP FOCUS:
Sprint and Olympic Distance
NAME: Jesse Funk
STORY: Hey everyone I'm a developing elite amateur. I've been running and competing in distance events since 8th grade. I ran through college and am now a part of USAT's Collegiate Recruitment Program. This is all just a process forward towards earning my elite license and beginning racing the ITU style circuit. It all takes time, lots of time, so my personal philosophy of training is to enjoy what you're doing. Goals are great and can keep us motivated in certain moments, but ultimately if you learn to love the motion of the sport you are engaged in you will be more fulfilled: win, lose or draw.
In non-triathlon life I am a small business owner, have 2 cats and an undying love of ice cream.
FAMILY STATUS: Not married, in a committed relationship.
CURRENT TRAINING: Training hours vary week by week, but most weeks that don't have an interruption I'm training 15-17 hours a week. Which equates to 19-23km in the pool, about 6.5 hours on the bike and approximately 26-30 run miles a week.
THIS YEAR'S RACES: Just completed my first race of the season with the KC Tri. It's always a test triathlon for me and I got out of it what I wanted to in terms of data. Placement wise I ended up 2nd in the 25-29 Age group and 8th overall. A large improvement over previous years completions at this race.
2014 RACES:
May - KC Tri - Olympic
June - Topeka Tinman - Oddball in between oly and sprint
July - Shawnee Mission Triathlon - Sprint
August - Detroit Elite Development Race - Draft Legal ITU Style Amateur Sprint
WHAT WILL MAKE ME A GOOD MENTOR:
I'm coming back for my second season mentoring here. As my guys/gals from last year will tell you I try to do my best to be honest in my approach to any questions you have about triathlon and helping you move towards your own personal goals. The best compliment I recall from last season is one of my guys telling me that I don't talk down to anyone despite my own personal aspirations. Rest assured that you are just as important or more so than I am, no matter whether you are slower, faster or the same speed as me. Triathlon is a journey that we share with each other. It can be anything from solely a transformative physical journey to a spiritual journey if you allow yourself to get in touch with who you are, by testing your limits and confronting your fears.
Group Numbers Limit
I'm looking to have 5-6 new dedicated athletes in this group this year. This is smaller than the forum suggested 10-15 and for a reason. All of my previous year's mentees are welcome to join in and not add to the count. These guys/gals have almost all had some contact with me through the winter training despite my lack of official mentor group on here.
I'd like to structure my group this way so that I can really focus in on quality, in-depth answers for a smaller group of people I have no history with. This makes sure you reach your goals easier and get your questions answered thoroughly. Additionally my previous mentees, if they wish to join again, can serve as a second layer in this group so that it is closer to a mastermind than a sole mentorship.
Group Closed
Thanks to those who've joined the group before closure. At this time I'm closing the group since again I want to focus on high quality responses for people. If I feel like I am time-wise able to handle more people I will re-open the group. Anyone not in the group you're more than welcome to send me a PM if you just have a quick question you'd like answered. It may take me several days to answer, but I will get around to fairly simple questions for you on a first-come first-serve basis.
Edited by funkj25 2014-06-03 1:57 PM

2014-05-23 11:32 AM

in reply to:
Dominion

2014-05-23 2:41 PM

2014-05-23 7:47 PM

2014-05-26 6:48 AM

2014-05-27 10:55 AM

in reply to:
kps22

2014-05-27 11:00 AM

2014-05-27 9:04 PM

2014-05-30 8:36 AM

2014-05-30 1:07 PM

2014-05-30 7:53 PM

in reply to:
Dominion

2014-06-02 2:00 PM

2014-06-03 11:14 AM

2014-06-03 11:29 AM

2014-06-03 12:48 PM

2014-06-04 12:35 PM

2014-06-04 12:51 PM

2014-06-04 4:39 PM

2014-06-04 9:07 PM