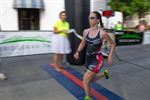 163





Subject:
Purchasing a Treadmill - Advice Please
I've searched the forums about treadmills, but nothing recent and relevant. I'm looking to purchase a treadmill for my home "gym." I prefer running outside but with the shorter days of winter coming and my work schedule, sometimes it would just be easier to squeeze my workout in if I have a treadmill at home. Some quick facts about me: 5'6", 140lbs, mostly training for half iron distance races (so 1-2 hour runs max, max speed for me 7 min/miles for interval work, sustained long distance pace 9 min/miles). My husband may use the treadmill occasionally (6'2", 230lbs).

I'm not looking for top of the line NFL quality equipment. I'm looking for reliable and durable. I would like a digital display. Must have incline adjustments.

Any advice is most welcome...thank you guys!

3mar

2015-08-24 7:45 AM

b2run

2015-08-25 11:07 AM

Nussy

2015-08-26 8:37 PM

in reply to:
EKH