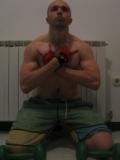 Veteran


346






Subject:
SIMPLE QUESTION - WHICH SADDLE SAVED YOU?
Hello,

I have very difficult time finding the right saddle. It is a process, I have changed 4 of them. I recently bought first TT bike with Prologo T3, and issues are present as well. Having a mindset of a long distance triathlete, this just takes off (sometimes) more than I can chew. I am fighting the battle for 5 years and now thinking maybe my skin won't ever feel comfortable (maybe it's the type of skin mixed with everything else).

Which saddle saved you?
Very simple question.

Cheers!

3mar

2016-03-25 8:33 AM