2016-07-10 10:30 AM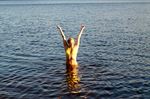 19



Subject:
Swim Panic but experienced swimmer
I am looking for suggestions on how to keep myself calm during the swim.
I am not sure if it's the busy water, the adrenaline at the start of the race or my overactive imagination but I always end up with a sense of panic during the swim. What makes this extra frustrating is that I'm a comfortable swimmer! I spend all summer at the lake, love the water, swim across the lake a couple times a summer, etc. I have no fears of the water/swimming but as soon as the race starts, I just lose it and my anxiety kicks in and I end up breast stroking for a bit and losing time trying to refocus. Swimming/being in the water is one of my favorite things but it's easily the part of the race that derails me the most.
The last race I did the swim really kicked my butt. My goggles were fogging, which added to my freak out and when I went to fix them, they fell apart and I ended up having to do most of the swim with my goggles in my teeth and breast stroking to keep the water out of my contacts. Which, now in retrospect and combined with the rest of the disastrous race, is a little funny but not really how I want to have my swim leg go.
Anyone have any suggestions for getting my mental game on track during the swim because this sucks!
Edited by dramaqueenjs 2016-07-10 10:41 AM

2016-07-13 10:47 AM

in reply to:
cbrave

2016-07-24 6:34 PM

in reply to:
JoelO