4



Subject:
Wetsuit / Extreme swim fatigue
Hello all. New to this forum thing so any help is appreciated. I have two issues.

First- I swam my first sprint of the year last weekend. I've been swimming 2000 m in the pool with little difficulty. Race day I hopped in my wet suit, and jump in the lake and Felt as though I was about to die. I was honestly looking for the nearest lifeboats 'just in case'! I Had to turn on my back which I've never had to do. I'm thinking it was because I was rushed and didn't get a good fit on my wet suit before the race. I don't think it will shrink, and I didn't try soaking it before the race day as suggested in another post. I have another race this coming weekend as suggested and other post. I have another race this coming weekend (eight days from the day of this post ). My next race is an Olympic, so longer distance in the water. I'm not sure if I should try to track down another wet suit or just try soaking this one and spending time to make sure I get a good fit prior to swim.

My second issue is that my legs really float up in the water when my wetsuit is on , which seems to put additional additional stress on my shoulders. Is this a matter of The type of wetsuit I have? I do have chicken legs but I would like to be able to use them more when I'm swimming. The suit is an Xterra.

Again, any help appreciated. Thanks.

3mar

2017-06-30 12:07 PM

1502




Katy, Texas

Subject:
RE: Wetsuit / Extreme swim fatigue
Putting on a wetsuit is an art. If it took you any less than 10 minutes (literally, not figuratively) then you probably didn't have it worked on all the way. I could be that it didn't fit you properly, but make sure the thing is on right first. You can find youtube videos that go into great detail explaining the process.

Personally, I was never able to get comfortable in a sleeved wetsuit and opted to go for sleeveless which made a world of difference.

On your feet floating up....that's where they're supposed to be!!! That's exactly how you should be swimming. Your legs could not possibly be too high in the water. If your legs are anywhere but breaching the surface of the water then they are causing drag, and lots of it, which your arms have to overcome.

701





Subject:
RE: Wetsuit / Extreme swim fatigue
Hopefully it was first race of the season jitters and they're all gone now.

I myself, find that it takes me 1/4 of the swim (no matter the distance) to get into a groove.
Partly race anxiousness.
But, I also believe it's because I'm floating so much that my legs are in a totally different place in relation to the waterline than when I'm not wearing it.

I almost feel like I need to let them 'sink' a little to get full power.
Then I remember, I'm still going faster, even if I'm not attaining my best (yet still probably pretty weak) form that I have in the pool.


New user


1351








Austin, Texas

Subject:
RE: Wetsuit / Extreme swim fatigue
I find that I have to really pull my wetsuit up as high as I can so that there's enough slack in the shoulders. Start from the bottom, make sure you're pulling it up high enough that it fits snug against your groin. You'll have to make sure it's high up enough above your ankle. Then keep going up the suit and pulling upwards. If not, it can feel like it's pulling your shoulders down. Do you feel like you have trouble breathing in it? Too tight around the neck? If I were you I'd explain the situation to a shop and try the next biggest size.
I've never heard of soaking it before hand, that just sounds like it would be miserable trying to put it on. I always did the technique of putting it on dry and wearing a plastic grocery bag as a sock. That will help slide your leg through much easier. Good luck!

Pennsylvania

Subject:
RE: Wetsuit / Extreme swim fatigue
Yes, getting it pulled up as high as possible is key. While you can do a pretty decent job yourself, I recently had someone carefully grab the shoulders (from the inside, not digging nails into the rubber) and they yanked hard and up a few times and it made a world of difference! Good luck to you!

Master


8097








Eugene, Oregon

Subject:
RE: Wetsuit / Extreme swim fatigue
As others have said, really pushing it up against your groin and armpits can help. I always find that my first few swims in a wetsuit feel unusually tiring, then I get used to it and even feel good with it on. I think it just takes some getting used to the tightness, especially in the shoulders, and the somewhat different position in the water. I also feel like my legs are higher in the water with it and sometimes that makes my back tight. My legs normally don't really "sink" and I almost wonder if the suit makes my legs go a bit too high. Less of an issue with my new wetsuit, which is a higher-end model meant to be less buoyant and more flexible. It may just a matter of the match between the suit's characteristics (flexibility, buoyancy, fit), your body, swim mechanics, and how used you are to the suit.

1660







Subject:
RE: Wetsuit / Extreme swim fatigue
Good advice above.
I'll echo:
#1 - Make sure you have the wetsuit pulled 'up' enough - it should be enough to give you a superwedgie feeling. If you don't do that, the suit can pull down on your shoulders when you extend your arm, resulting in rapid shoulder fatigue.
#2 - There is a reality that some wetsuits just don't fit on certain people for the seemingly correct size. My first triathlon wetsuit was a BlueSeventy fitted by a very experienced fitter (I put the whole thing on in the store so he could check me out) at a Los Angeles triathlon-specific store, and he guaranteed me it fit perfectly to me, even though I kept saying my arms felt constricted when they were raised (and yes, I did do the superwedgie.) Sure enough, my first 3 OWS and my first 2 OW races were absolute disasters because of early shoulder fatigue in <200 yards, even though you don't use your delts too hard during freestyle swimming!
My rookie noobness kept blaming myself and my fit for 4 months, and I had like 10 different experienced multiyear veterans of triathlon in the triclub help me pull up that suit. Same shockingly bad result, every time. I even asked here for advice, and then advice was the same - 'you're not pulling it up enough.'
I finally got so PO'd that I completely ditched the wetsuit at my next OWS and promptly went from far off the last swimmer and barely even surviving 1000 yards, to nearly finishing as the fastest one (of the admittedly SLOW beginner group!) I promptly bought a sleeveless wetsuit and immediately had a totally problem-free Oly swim in my first race with it. I've since gone a size up with sleeved as well with no problems (I had to cut the legs short.)
So it's def possible that even an experienced trisuit fitter can get you wrong despite best intentions. Odds are still that you just need to pull your suit up, but if that doesn't work, you may want to size up or try sleeveless.


Member


1004



Subject:
RE: Wetsuit / Extreme swim fatigue
If you're not in a rush, why not postpone the next tri. Do some ows with a wetsuit. It takes some getting used to. The more you use it, the more comfortable you'll be.


Extreme Veteran


1175







Langley, BC, 'Wet Coast' Canada

Subject:
RE: Wetsuit / Extreme swim fatigue
I was not sure from your post whether this was your first time in a wetsuit this season, or first time ever in a wetsuit.
IMHO, this info might be helpful to people offering advice.

cheers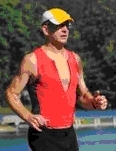 Expert


1180







Fort Wayne, IN

Subject:
RE: Wetsuit / Extreme swim fatigue
I gained weight and my old wetsuit was too tight. I didn't realize how restricting it was until I got a new wetsuit that was more appropriate to by size/weight. I didn't realize how restricting the old wetsuit was until I got the new one.

donw

2017-07-02 6:04 PM

Veteran


495









Calgary

Subject:
RE: Wetsuit / Extreme swim fatigue
I think there's a strong chance that your problem wasn't really the wetsuit, or at least that it was not ONLY the wetsuit. Was this your first open water triathlon swim? I'm a lifelong swimmer, pool in the backyard as a kid, lots of playing, swimming, rough-housing in lakes. But none of this prepared me for the feeling of my first open water swim. It's very common to feel panicky if you're not used to open water. I think that more open water swimming is the main thing you can do to get over this. (Not something I have a chance to do very often so I am still fighting this feeling every time I enter a triathlon.)
Don

4



Subject:
RE: Wetsuit / Extreme swim fatigue
A lot of great advice! Thanks to all.

To clarify, this wasn't my first OWS ever, but it was my first for the season. I ended up soaking it a couple days before my tri....Yes, it did make it tough to get into (damp). I let it hang for about 24-48 hrs after it was in the tub. Not sure if it was solely due to soaking it in the tub, or the previous (disaster) OWS that helped, but I would say in the future I WON'T be jumping in to my first race of the season without a prior OWS (in that season) or soaking it if I can't make it to the lake.

However, I think the main thing I took from this is preparation. I made sure to give myself plenty of time to "wedgie up" and my Olympic length swim was pretty solid this round...compared to my panicked sprint swim a couple weeks prior.

I still experienced fatigue in the one shoulder, and discussing the issue more and more, I've still decided to get a sleeveless suit. If anyone has any opinions on a brand they'd recommend???