2



Subject:
Thrower Turned Triathlete
Hello Everyone!

I have always wanted to train for and compete in a triathlon. I am a former collegiate and post-collegiate thrower that has finally decided to register for a sprint triathlon. I'll be competing in a sprint race on August 25th.

I'm not sure how my body will hold up, but I think 6 months of training time should be sufficient enough to have a reasonably acceptable performance and finish the race. I'm 6'1" and weigh 285#. I have no real swimming experience besides swimming in our backyard pool with my family. We ride bikes around our neighborhood. I haven't ran three consecutive miles in over 10 years.

With your support and guidance, I hope to finish my race and check off completing a triathlon from my bucket list.

Your advice and suggestions are greatly appreciated!

2018-02-27 1:26 PM

701





Subject:
RE: Thrower Turned Triathlete
You're in a way better spot than me when I started my journey.
I was 305. Hadn't run a single mile in more than 2 decades. And, I was never involved in any kind of athletic activity.
I didn't start actually participating until I was pretty far down the road fitness wise, but you'll be fine.

If you've got a pool.....I'm guessing you're at least a confident swimmer...which is a huge part of the battle for some folks. For some, the swim is 'daunting'. I'm guessing it doesn't scare you so much. Yeah, if it's open water, that can change things, but if you view it as "fun", it'll never be daunting.

The ride will be cake for ya. Because riding bikes is fun.

The run? Worst case, you trot what you can. Shuffle the rest. You'll finish.

That's goal #1 for most of us starting out. Finish. Crossing the line is an acceptable performance for 99%(?) of us at a given race.

I'm guessing as a former competitor, you'll likely set some higher expectations. Could be as simple as "not backfloating/hanging on to the wall" for the swim. Or "only walking through the water station". Maybe more than that. Either way, getting out and doing stuff (swimming, riding, running) obviously are the key to meeting any expectations you have above simply finishing.

Others can provide detailed advice. I'm a weekender/completer and out for personal enjoyment and fitness. I always offer more logistical advice.
-don't spend a lot of money. A cheap race belt is handy (no safety pins). You might even be able to borrow one. Worst case, you can pick up cheapies for a couple bucks. That, a bike/helmet, a swimsuit, and shoes you can run in is all ya need. Maybe some goggles.
-read the rules for the race, or defer and read USAT rules if it's not a USAT race. Not so much for the particulars of "draft zones" and such. They're not out there looking to bust us Age Groupers for stuff like that. But I found it reassuring to know the rules...which are mainly common sense rules with a lot of 'safety' in mind. Instead of guessing what to do in a given situation, you'll "know". You don't need to spend a ton of time, about like taking a driver's test. Read through 'em and you'll pass.
-take a moment to look around now and then. It's an accomplishment you'll want to remember. Also, triathlonners are incredibly friendly, but odd. Lots to snicker about and tell your wife when you get home. It's apparently OK to rub various creams down your shorts on your netherbits in front of 600 other people and nobody bats an eye. The worst you'll get is someone asking to borrow some.
-there will be portapotties, but there will be lines before the race. Plan accordingly.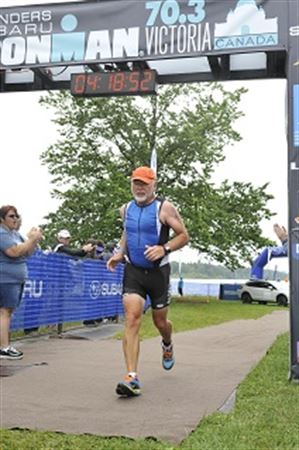 Extreme Veteran


1704






Penticton, BC

Subject:
RE: Thrower Turned Triathlete
Hi Cinfurna and welcome to BT.
You'll find the forums friendly and helpful so don't hesitate to ask questions and read other posts as well.
Your Sprint - Is it an open water swim (OWS)? Are you comfortable in the water or nervous about it?
Swim - if you're a beginner get some coaching and don't cheap out on it. Consider a Master's program or private coaching until you can swim the minimum necessary to join a Master's group. Be prepared to swim 3 times per week (4 times even better) and don't wait start swimming now. I can't emphasize this enough. Beginners often do breaststroke for their first race and learn freestyle over time. If your race is an OWS then you will also need to go to the swim location and practice in that location as often as possible. Don't swim alone though. You should be okay without a wetsuit in August.
Bike - Any bike will do for your first race. A good hybrid should do and if you decide you love your triathlon then you can consider getting a better bike for later races.
Run - Include "Bricks" in your training. A brick is a bike ride followed by getting off your bike and changing to your run gear and then running to get used to running on your bike fatigued legs.
During your race, keep moving forward and never stop. Especially on the run. If you can't run or jog then keep walking. I doubt you will need to walk just keep it in your mind and have fun in the race. Hi 5 other athletes and cheer them on (you'll learn quickly).
You should join a mentor group. Any open ones should do. I know, "My year to Tri" group is geared to beginners. Or, if you are older my group I belong to is, "Gray guys and gals". If you do join a group be ready to ask questions and get involved in the discussions so you get a lot out of the group.
You'll need a training program and be consistent with your training. If you start running on your own you could just start walking fast and then gradually add some running - even if it is just 2 minute intervals and gradually increase your time.

2018-02-28 2:38 PM

in reply to:
0

701





Subject:
RE: Thrower Turned Triathlete
Originally posted by wenceslaszRun - Include "Bricks" in your training.  A brick is a bike ride followed by getting off your bike and changing to your run gear and then running to get used to running on your bike fatigued legs

100% agreement on doing this at least a few times. If only to experience it so it's not a shock on race day. I describe it as feeling if your legs are simultaneously made of lead, yet filled with helium.
But to be fair, if he's really only looking to bucketlist and dip his toes in the water (literally and figuratively) with a sprint...and the race is of the local variety where all levels are welcomed....there's no need to rush out and join a masters class or get a swim coach. Assuming that he's confident in the water and confident in swimming the distance without panic...even if he has to resort to breaststroking, or rolling over and backfloating for a few seconds, that's more than adequate.
All that stuff can come with time...if he wants.
I've never done masters class. I've never had a coach. Sure, I'd be better. But, I'm a total bucketlister, completer.
I mean, I know tri isn't exactly BOOMING here in STL, but most of the races I do around here....I'd be shocked if more than 1-2% of them used a coach or more than about 5% of them attended masters sessions.
Even in the bigger/longer/more competitive races I've done...it's not much higher.
Depends on your wants/needs/desires/goals...I suppose.
The mentor groups and clubs you note aren't a bad idea. If you're into that. Lots of extra motivation, resources...often discounts at shops. Some logistical advantages at races. For me, they just never worked out timewise. I was never available when they met to swim/run/ride/hangout/etc. But I know others who have a lot of fun with 'em and get a lot of benefit.
Edit:
I just got curious. I like numbers.
I found one "article" about coaching posted in 2009.
-12% use a live coach regularly
-10% use a live coach infrequently
-5% use a coach by phone/email
-4% use software based training
The other 68% don't use a coach.
I think it'd be hard data to collect. Race participants vary. Many races have no involvement with anything like USAT or similar potential overarching repository.
Edited by jhaack39 2018-02-28 3:00 PM

2



Subject:
RE: Thrower Turned Triathlete
I appreciate everyone's input. It is greatly appreciated. To answer a few of the questions asked....

1. I don't mind swimming in open water. I've never raced in open water, however I don't mind the feel.

2. Yes, I will definitely practice the open water swim portion of the race beforehand where the race will take place. It is about 30 minutes from my house.

3. I have a bike. It is nothing spectacular-I feel it will get me through this sprint race and the training leading up to it.

4. I have never completed a brick before. This will be something very new to me, and out of my comfort zone. At times I have difficulty transitioning between exercises in my garage-swim to bike and bike to run will be something very new to me.

Any thoughts or suggestions on purchasing a pair of triathlon shorts that I can swim, bike, and run in for the day of the competition? I'm not ready to spend a lot of money on a wet suit and with the race being held at the end of August, I won't mind swimming in just a triathlon top and shorts that I can wear the whole day.

Thank you!



2018-03-06 1:28 PM

701





Subject:
RE: Thrower Turned Triathlete
Lots of brands out there for tri-shorts.
Even within brands, you'll find a variety of price points.
You can spend a lot. Or save some money.

You don't "NEED" them for a sprint....I did 2 or 3 before I bought a pair. That being said, if you don't have cycling shorts and want a pair to ride in on a regular basis....they can pull double duty. In fact, I prefer tri-shorts on the bike as the diaper isn't as wide as cycling shorts. And being that I'm not the kind of guy who's ever sported a thigh gap, that extra wide diaper can yield unpleasant results.

I bought some "last year's" model TYR competitor shorts (which is their low end and were cheap) a few years ago and used them quite a bit for a few years and they're just now starting the process of disintegration. I can't imagine the other brands aren't the same. There are some really inexpensive imports. Plenty of reviews and they're mixed mixed from "terrible" to "awesome". I bought an import cycling shirt last year. It's my all time fav to ride in.

Most places honor returns, etc. That's really the key is make sure you can return them..The sizing charts are sometimes as confusing as all heck and about as accurate as I am playing darts blindfolded. Especially with a non-traditional triathlete body like mine. If you don't have a local shop that sells some....returns are pretty key.

Also, watch out...some say they shouldn't be used in chlorine. The TYR's, I believe said that. I wore them once in a pool to try them and they survived. Most say not to machine wash. But, after some of the stuff I've wound up swimming in....I pretty much machine wash them anyway. If they fall apart....they fall apart. Haven't really had issues yet, but I don't wear them all that regularly.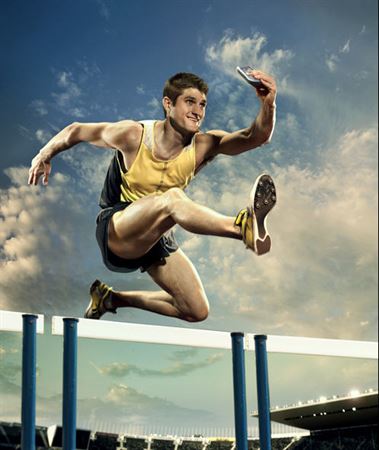 4



De Moine, Iowa

Subject:
RE: Thrower Turned Triathlete
Thank you, for sharing this useful information