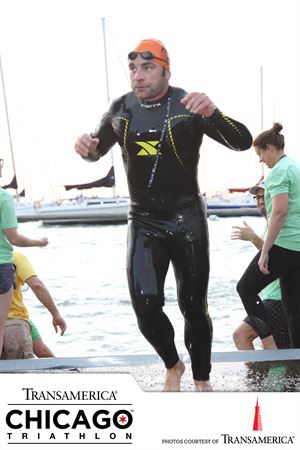 130




Subject:
Thank You BT and BSC Multisport
It was this time last year that I saw a thread about a coaching scholarship being offered for 2018. I had just finished my first year of triathlon and was really enjoying the new fitness and a new avenue to fuel my competitive flame. I spent a lot of my first year training in the gray zone. I never took my easy days easy enough and thus was never able to push my hard workouts as hard as they were supposed to be. I would try to cram in training and neglected to achieve some of the physical adaptation that prebuilt plans work to achieve.
We started off season training with a cycling block. I had purchased my first trainer and really enjoyed following weekly structured training with power data. I work in healthcare and have a schedule that doesn't allow for weekly prebuilt plans to easily adapt. I am also married with 3 children 7 and under. So, time tends to be a hot commodity. Weekly (sometimes daily) text strands allowed Scott to adjust my training plan and still keep it structured to achieve the desired adaptations and to keep me from injuring myself. I needed to be held back but I also knew that Scott was reviewing my data and that extra level of accountability helped me push just a little bit harder on those tough days.
Scott created a season long training plan taking into account family vacations and key races I wanted to make my A races. Overall, I ran my first 1/2 marathon, completed 1 Olympic, 1 sprint, and 2 HIM this year. One was WTC and the other was a local where I won my age group! Finally, to cap it all off I ran my first marathon only 4 weeks after my last HIM.
I completed my first marathon in a negative split and the back half of my marathon was only 5 min slower than my open 1/2 time. It was a pretty amazing feeling. I was overwhelmed by how prepared I was for the marathon. It was a very scary feeling. Before I started working with bscmultisport.com I had never ran more than 10 miles and during my training I never went over 14 miles. However, we had worked on developing my RPE meter and listening to my body. I followed the plan and felt great for the first 13 miles. I went to a very dark and painful place about mile 20. My quads were on fire but my lungs felt fresh. I was cruising. Scott prepared me for that moment. I closed off everything around me and literally yelled "shut up legs." I got faster every mile from that point on and stayed focused. I knew I could do it because I knew that I had the right training. Crossing that finish line was one of the most amazing physical achievements I could've dreamed of.
Without everyone here on BT and Coaches Scott and John with BSC I don't think I would be at this point. Thank you to everyone. I can't wait to see what another year of work with BSC can accomplish. It's time to sit down and plan next season. The one thing I'm confident of that I will be more likely to achieve my goals with the help of BSC Multiport.
Edited by jnuger 2018-11-05 7:55 AM

259






Subject:
RE: Thank You BT and BSC Multisport
Wow! Thank you for the ringing endorsement Jordan! Scott and I can't take all the credit... we just showed you the way, you had to do all the work! You are a fantastic example of why we decided to offer the scholarship program. We wanted to help people grow, fall in love with multisport, and accomplish things they didn't even know were possible. As Scott liked to tell me when he was coaching me, it's the coach's job to show the athlete what they are capable of, even if it's something they cannot imagine. I feel fairly confident in speaking for Scott when I say that you have accomplished all of those goals and then some! It's been a pleasure getting to know you and the family over the past year and we are looking forward to working with you next year... we wouldn't dare miss out on what's next!

With that being said, we will be opening applications for next year's scholarship program shortly in a separate post. We will accept applications for a few weeks and try to have next years candidates nailed down by Thanksgiving.

1142





McAlester, Oklahoma

Subject:
RE: Thank You BT and BSC Multisport
I worked with BSC Multisport this past year too. Scott is a wealth of knowledge and since we are both analytical and long winded I loved that he took time to explain everything instead of just giving quick answer that would have left me following blindly without understanding what the plan was supposed to accomplish. I did a lot of things very different over the past year than I would have on my own. I did a lot less swimming and lot more running. My running targets paces were also a lot faster than I was doing on my own. I also finally had to break down and get a bike training and do training with virtual power instead of Heart Rate of precised effort. It was very gracious of John and Scott to do the scholarship program and I told Scott I would make a contribution to a perpetual scholarship fund to give others the opportunity that I had. I have been doing Triathlons for 4 years now and am still a runner trying to fake it as a Triathlete.
I am still working on goals for next year. I may do a Halfmax 70.3 even in Missouri next Juner but also learned at a 15K race in Talihina, OK on Saturday (that I was first place over all) about a group from the Choctaw Nation that is planning to run the 500 miles of the Trail of Tears from Mississippi from Oklahoma over spring break in March as a relay. They have a professional historian that will be with the group and will talk about points of interest along the way so that run sounds like a possibility for my 2019 goals too. I am still gathering information on the cool races/events I could do next year. I hope to have a plan nailed down in a bout month. The Choctaw Nation also has a community wellness program that sponsors about 30 5k-1/2 marathon races in south Western Oklahoma every year. I am considering doing a lot more of those races next year since I get my race registration paid by the wellness program at teh sponsored races. They would take away from Triathlon training and races but one of my bucket list items was/is to be named the Oklahoma Male runner of the year. Two guys that I trained with when I was living in Tulsa 10 years ago had the distinction of being named with that honor in their running careers. I figure if I run 10+ races and win first place over all in all of them that I would have a legitimate resume to be considered. I am looking forward to 2019 and all that I will bring and am grateful for the opportunity I had with BSC this year.

18



Subject:
RE: Thank You BT and BSC Multisport
Wow!! I had no idea such a scholarship program existed!! I look forward to finding out more when you post! I just finished my first TRI season and am absolutely hooked. We had a drought this summer and my house foundation broke and sank 3"....cost me $20k in piering repairs before we can even start to fix the inside of the house. Considering I only make about 43k per year...that's a lot for me. Won't be paying for any fancy coaching next year for sure :-(