2019-12-04 4:13 PM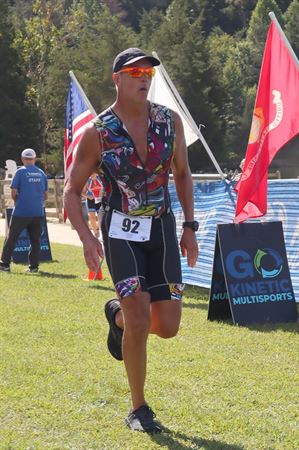 Expert


4193








Middle River, Maryland

Bronze member

Subject:
Beer Drinkers' Appreciation Society (BDAS) 2020 Version - ALWAYS OPEN
NAME: Mike (jmhpsu93)
LOCATION: about 15 minutes east of Baltimore (I'm in Middle River, MD)
EXPERIENCE: XC/track in high school, volleyball/basketball in college, continued the weekend warrior athlete thing through my 20s (played lots of beach doubles in the 90s when it was popular), got married and had a kid, gained 30 lbs. Decided to do the Baltimore half marathon in 2007 and had a great time training and racing. My wife had done a couple of those Danskin women's triathlons after having our daughter and I thought it would be cool to do so I signed up for one in 2010, never having swam for exercise. First pool swim lasted about 5 minutes.

Got through the training and the race (including a 5K PR during the tri) and I was hooked. I have 6 HMs and about 7-8 tris under my belt. Best season was 2013-2014. Been dealing with injuries ever since (mostly low back)
FAMILY: Wife and 17YO daughter who swims year round and was faster than me by the time she was 11.
TRAINING: Mostly cycling and a little swimming, looking to up both this year and get running again.
RACING: Getting my bike racing license and doing a mix of bike races: criteriums, time trials, and stage races. And the occasional sprint tri if my back can handle some running
MY MENTOR/MENTEE EXPERIENCE: Been in a mentor group since 2011, I'm on the webs often and still participate in the main forums This group really doesn't have a main mentor - we rely on our collective experiences and strangely we mostly agree. We welcome new members and are happy to share our experiences. We're also global with folks in Europe and New Zealand, so someone is almost always around the house, so to speak.
I'm also a big data nut and have read tons of books on training (Friel, Mafatone, Daniels...) and can relay some of my successes and failures using really structured training.
FAVORITE BEER (BONUS SECTION): Ballast Point Sculpin, Bear Republic Racer 5 IPA (I really should move to CA). Local favorites are Heavy Seas Loose Cannon. Also love the red wine, CA cabs for the most part.

2019-12-28 9:34 AM

2019-12-29 4:36 AM

2019-12-29 6:22 AM

2019-12-30 9:00 AM

2019-12-30 1:07 PM

2019-12-30 1:08 PM

2019-12-30 1:12 PM

2019-12-30 1:27 PM

2019-12-31 1:49 PM

in reply to:
#5264507

2020-01-01 11:19 AM

2020-01-01 7:26 PM

2020-01-01 7:30 PM

2020-01-01 7:47 PM

2020-01-02 3:02 AM

in reply to:
Qua17

2020-01-02 2:54 PM

in reply to:
#5265037

2020-01-02 4:18 PM

2020-01-02 7:08 PM

in reply to:
#5265114

2020-01-03 12:05 PM

2020-01-03 12:52 PM

in reply to:
Qua17

2020-01-03 12:56 PM

2020-01-04 7:20 AM

2020-01-04 11:55 AM

in reply to:
#5265123