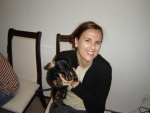 Member


31



Johannesburg

Subject:
Sea swim vs Lake swim etc
How big is the difference between a sea swim and a lake swim for IM, effort wise and time wise? I live inland and have never swum in the sea (as in openwater swim).
I am doing IM South Africa next year (18 March) and the swim is in the bay at Port Elizabeth. Is there anything I can do to prepare for the sea swim?
ALSO, what bottoms do you wear for IM - 180km is very long to do in a tri-swimsuit??
Please help


Maine

2006-12-12 10:18 AM

Stake

2006-12-12 12:09 PM