2007-05-23 1:50 PM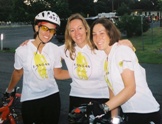 Extreme Veteran


514



Perkasie, PA

Subject:
When kids say the darndest things
Part of my "tri" goal is to become fit and be a good example for my nieces. I am very involved in their lives to help my sis.

For several weeks I have been taking the twins (7 years old) to swim lessons at the YMCA. While they are doing their class, I swim laps. This past Saturday I brought my wetsuit to practice in. Of course they had a bunch of questions. I told them I would be racing. Then I tried to explain triathlon to 7 year olds.

Ashley then announced that she would like to race. "What type of race would you like to do?" I said. "I want to run" she said. At this point I'm trying not to jump out of my skin with excitement -- not to mention that this is the cutest thing ever!

The twins have always been very ethusiastic and positive about themselves (they think they are great swimmers and will say so - I had to warn their instructor that they will say they are good at something even if in reality it's a bit iffy) and I don't want a real race to hurt that.

Anybody know of kids races that are good for self esteem in the Philadelphia/Bucks County, PA area?

And I am in AWE of the parents who involve their kids in their training and even get them involved in racing. Your kids ever say anything cute/funny about your racing/training?

2007-05-23 2:51 PM

KenD

2007-05-23 2:53 PM

2007-05-24 7:27 AM