Member


23



Chicagoland Area

Subject:
RE: Fat triathlete???
Ladies....I feel your pain. I live your pain, but it CAN get better. Think of what you are accomplishing. Check out my blog:


Expert


966









Decatur

Subject:
RE: Fat triathlete???
yep. you can where your enell under anything you want. Use bodyglide to prevent chafing. It's not the prettiest thing out there. But I swear the girls won't move.
I call it my bulletproof bra.


Master


1322






Chicago

Subject:
RE: Fat triathlete???
Bumping this very old thread because I love this one and I think catches the eye of some people toying with the thought. I do wish more of the people in this thread were still around though. Where did you guys go? Anyway I hope you're all staying active healthy no matter what size.
I'm still here training you can't get rid of me. HIM and IM this year for me. Still slow. Still Fat... but pretty damn fit and active.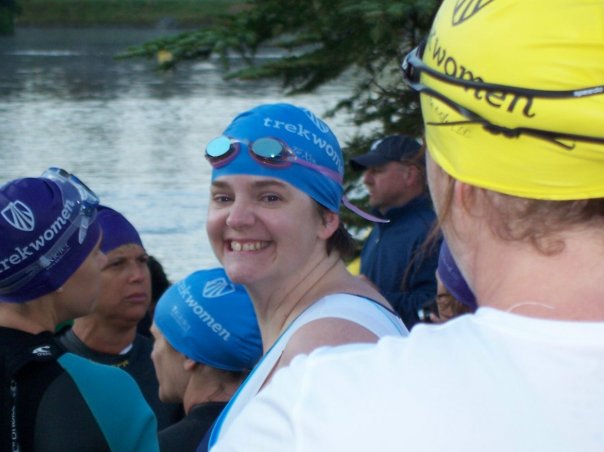 Veteran


124



Outside Boston

Subject:
RE: Fat triathlete???
Great thread. As someone who was athletic through college and then let myself go, I am still wicked self-conscious as I get out there and slog my way through workouts. I walk more than run, and get passed on the uphills (but use gravity to my advantage on the downhills:+), but I know that I am doing this for me and my health. I signed up for two tris this year and hope to kick butt!

Extreme Veteran


552





Wesley Chapel, Florida

Subject:
RE: Fat triathlete???
I am really glad to see this bumped, with my first race just a few weeks away. I started from the couch in September, and I dropped a bit of weight at first, but some have creeped back on and I am frustrated. And I am frustrated with my speed (or serious lack thereof). A lot of self doubt has started to creep in, but this thread is a good antidote. I WILL finish, and I may not even be last!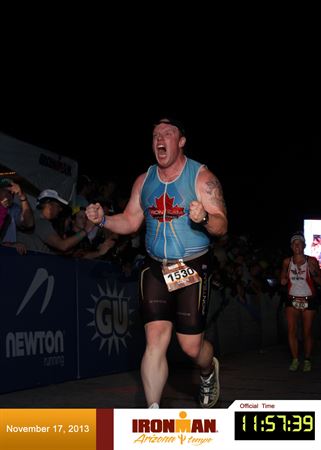 Veteran


320





Edmonton, AB

Subject:
RE: Fat triathlete???
Keep at it. I was talking with a friend of mine who has done 10+ Ironman distance tris and I told him I couldn't wait until I was in awesome shape so that it stopped hurting. He smiled and said, "ya know, it's funny. It always kinda sucks. Even those guys you see at the front of the pack are hurting. The better shape you're in, the faster you go but you still push yourself the same so it always burns. That's how you know you're doing your best."

Embrace the pain, that's how you know you're getting better!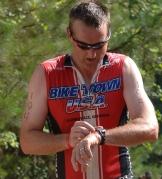 Regular


180






Clinton, TN

Subject:
RE: Fat triathlete???
nmp - 2008-06-25 11:10 AM

thanks for the advice. i'm so nervous sometimes, and the race isn't until july 13th. some days i think this is no problem, i can finish this. other days all can think about is what happins if i don't finish. then i remind myself that DNF is not an option for me. i want my students to see that anything is possible, even when it seems like the deck is stacked against you.
You will finish! Just remember, keep moving. If you have to do backstrokes or dog paddle...it"s ok. If you have to get off the bike and walk...it's ok. If you have to walk during the run...it's ok. Just keep moving. You are about to do something most people can't comprehend. And when you tell them you are a triathlete, watch the astonishment in their face and know you can do something they can't. Good luck and enjoy the race.
Member


23



Chicagoland Area

Subject:
RE: Fat triathlete???
Hah, I was out of commission for a while there. Now am back in the saddle so to speak again. I am doing a 10 miler at the end of may and will train for an olympic for the summer. May never actually do one, but I enjoy the training. Keep looking at the blog. It has some fun stuff. I found great cycling gear for the big gals
http://healthatmysize.wordpress.com/2009/08/21/ask-and-you-shall-receive/
I am also doing some roller skating these days.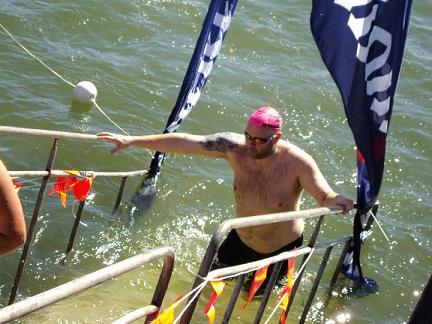 Extreme Veteran


633





The Redlands, QLD, Australia

Subject:
RE: Fat triathlete???
Ok doc,

So I'm 5'11 and around 230 pounds. I eat a very healthy diet 85% of the time (though portion size is an issue, especially at dinner) and most of my excess weight can be attributed to the amount of beer I drink at weekends, and until recently an almost complete lack of exercise.

I recently had a full health check and was fount to have a colesterol level of 4 and with no health problems either now or projected. I an neither diabetic nor pre-diabetic despite my mother bieng insulin dependent.

So I hear where you are coming from but my question is this. How does the health issue stand with regard to people who are training a lot and eating a lot of cakes and stuff that are crammed with artery blocking trans fats.

Derek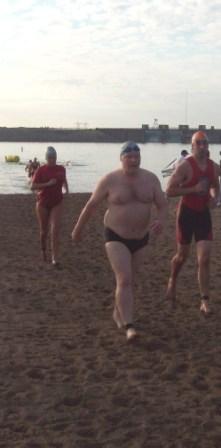 New user


265






Subject:
RE: Fat triathlete???
My doctor said that the excercise helps to raise the good cholesterol. It must, since I've been swimming regularly for over a year mine has gone up. It was good to begin with, but it has risen a few more points. My bad cholesterol has stayed about the same. It is in the good range and my blood pressure, which was fine before has dropped as well.

I'm 5"7' and down to 220.

I have the same problem as you. Too big of portions, mainly at dinner. Weekends don't help either.