DaveScott's Profile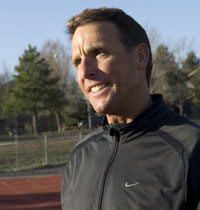 Last login

2011-07-12 3:39 PM

Triathlons Completed

About MeOne of triathlon's most recognizable names, Dave Scott began his career at the inception of the sport in 1976. He is a six-time Hawaii Ironman world champion, crossing the finish line first in Kona in 1980, 1982, 1983, 1984, 1986 and 1987.

Well known for his epic duels with Mark Allen, Scott was the first-ever inductee into the Ironman Hall of Fame in 1993 and celebrated his induction in 1994 by coming out of retirement to place second in Kona at the age of 40. He returned to Kona again in 1996, where he finished fifth overall at the age of 42.

Dave was inducted into the Triathlete Magazine Hall of Fame in 1999 and into the USA Triathlon Hall of Fame in 2011 following his father, Verne's induction in 2008.

Profile Album

Profile Video
Recent forum posts
There are no recent forum posts
Recent race reports
There are no recent race reports