1



Subject:
Newbie
Hi all,Thought id indroduce myself on the site. Name is Josh, 23yrs and live in Harrisdale SOR. Im planning to compete in my first ironman next year in the Busselton 70.3 (1.9k swim, 90.1 ride, 21.1 run) ive been looking through the different training programs that are available on the site which are a great help, but just wondering if anyone has some advice on where to start. I really dont know the first thing about triathlons eg- Best time to start intense training, when should i start slowing down closer to the event, should i do a race distant training session anytime in the lead up to the event. My main goal is to just finish but id like to give myself the best shot with solid training.cheers Josh

Champion


26509









Sydney

Subject:
RE: Newbie
Hi Josh,
Welcome to BT!!!
I think the best thing would be to start with the articles... as you are so far away from the HIM next year it might be good to see if there is a race this year that is a shorter distance that will give you a chance to try out the transitions and equipment in a racing scenario and give you a stepping stone to progressively step up the distances you are training for...
Then have a look at the plans and maybe work out training up to an early season shorter event that will then allow you to build up through summer for the HIM.... most importantly first is to get into regularly swimming, biking and running without go too hard too fast right off the bat - yes its easy to do without meaning to! Generally you shouldnt increase your training more than 10% maximum each week and you will often find with training programs that around every fourth week is a lighter training week to give your body some time to recover.
How technical you get with it is up to you but for starters check out the articles section here on BT and head the the Triathlon Talk forum to read all the questions being asked and conversations about peoples experiences!
Welcome to the crazy world of triathlon!
Cat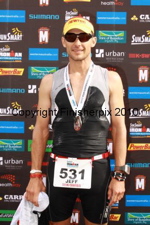 Veteran


208




Perth

Subject:
RE: Newbie
Youve got plenty of time still. If I were you I would get myself ready for the summer sprint tri series. Get fast now at the short distance races - you can add the distance later. Then in November add more volume and build for the Olympic distance race in January - this will give you a good idea of where you are at with regards to fitness. Take a few weeks off after that to get yourself (head and body) ready for your HIM training and then do a 16 week training plan for a HIM with a 2 week taper.
Member


10



Koongamia

Subject:
RE: Newbie
Hi Josh, welcome. Do you have any sporting background? If not I would suggest that you probably shouldn't start intense training for at least a year (depending on what you mean by intense of course.)
If your goal is just to finish, a good idea for your first I might add, then I would pick one of the beginner HIM programs and follow it, although that wouldn't start until some time just before new year. In the mean time pick another race earlier in the season and start preparing for that. Perhaps an early season sprint distance, a mid-season olympic to be followed by the half in May.
Before race day you will want to be able to swim and ride over-distance but it's probably not necessary to run a half marathon. Your training program will help you out there anyway. If your swimming is ordinary then perhaps get some instruction on that either through a squad or one on one instruction.
I don't think that there are any tri clubs out your way with most being based on the coastal strip but if there's one near where you work or study you'll pick things up a lot quicker by joining one and participating.
Lastly, what equipment have you got? Road bike, etc.?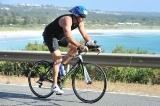 Extreme Veteran


576






Subject:
RE: Newbie
Welcome Josh, as the others have said check out the tri-series of events and start with them. Build your self up slowly. I did the 1/2 this year as a team( ride and run) it was a good start to be get the feel for it. Also the busso 70.3 is very hard to get a spot in.