1



Subject:
NYC Tri - swim and bike anxiety
Hi everyone! Has anyone competed in the NYC triathlon before? I am this year and am terrified of the swim. Any tips? Also nervous about the mounting and dismounting biking areas in transition due to the crowd, and I heard there is a sharp steep turn to get through.


Master


1989











New Jersey

Subject:
RE: NYC Tri - swim and bike anxiety
This will be my 3rd year doing it.

The swim is easier than most tri's. You do have to jump in off the dock - 5-6 foot drop. You have to jump in feet first...just cover up your goggles with your hands, jump in, and take a moment to gather yourself if you need it, and start swimming. But it's only 15-20 people at a time, so it's actually nicely spaced out. You don't have a billion people trying to swim over you. Then with the current (usually stronger with the earlier waves), you're guaranteed a PR. It's kinda cool if you sight towards the wall...they have signs telling you the distance. At the end, grab a volunteer's hand and let them pull you out of the water and up the ramp. A bit of a long run then to get to transition.

Mounting/dismounting the bike...not that big a deal. Have your bike set up in your easiest gear because then it's that steep climb after a very hard right turn. It's steep, but certainly do-able...a very short climb. Just take it at a steady pace and be aware of other riders...especially those who forgot to put their bikes in their easiest gears and are weaving.

The key to it all...don't panic. And don't pysch yourself out before you even start.
New user


347






Subject:
RE: NYC Tri - swim and bike anxiety
I agree with runnerx- the swim is definitely easier than most tris. The bike is slightly hilly by NYC standards, but if you're coming from somewhere with some hills you shouldn't have too much trouble. There's a decent hill just before the turnaround and that's about it. For someone who has never done the NYC marathon, it's pretty cool to run into the park and there's a huge crowd after the race. Enjoy.
Member


326






Subject:
RE: NYC Tri - swim and bike anxiety
The swim is cake, just sight the wall on your left, and make sure it stays about the same distance away. The bike isn't too bad either, but like stated earlier, have your bike in a stupid easy gear, and watch out for the douches who think they're going to win the race climbing out of transition. Right after I climbed out, my wife said some brochacho came screaming out, hit another guy (broke his bike) and then left. Bad place to ruin your day.

I'm not racing this year, but will be leading the volunteers at the run station at mile 3.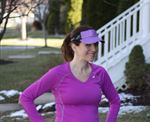 2



, Maryland

Subject:
RE: NYC Tri - swim and bike anxiety
I'm doing the NYC Tri also - I've been reading race recaps online and starting to get worried about random things. Plus the logistics of getting there with my bike, etc. Good luck!
New user


5



Subject:
RE: NYC Tri - swim and bike anxiety
Edited by lrosenthal 2014-07-24 7:59 PM

Master


3195








Just South of Boston

Subject:
RE: NYC Tri - swim and bike anxiety
Did this last year. Swim is crazy fast with the current. I think I had 18 min for the swim which is ridiculous for my abilities. Bike is far hillier than I expected, but not brutal. The road conditions are not all that great though, so be on watch for ruts, potholes, etc. The run is also hilly - who thought Central Park had so many!?? Really fun to run through the park, and the finish is fun.

Logisitics are what they are given where the race happens. The walk back to transition after the race isn't bad, as you'll have lots of racers to talk to, etc.

If it were closer, I'd try to do it again.

Have fun!!!!!!!