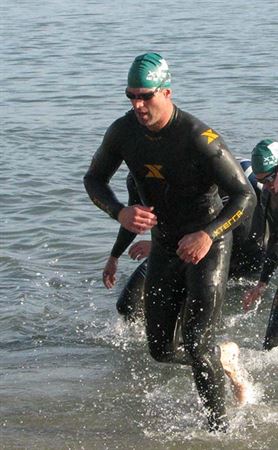 Official BT Coach

8497












Indianapolis, Indiana

Gold member

Subject:
Pro Chris Hammer's Advice on Reaching Goals - Reposted from Articles
For our forum users who don't check the Articles section ... we're reposting for your convenience and discussion.
Pro Chris Hammer's Advice on Reaching Goals

author :
alicefoeller

comments :
0
Incremental focus, competence building and careful self-talk are good paths to success
Completing a triathlon is a great goal, but it requires smaller goals leading up to it, as well as a focus for each day of training, says professional triathlete Chris Hammer. Beginner Triathlete spoke with Hammer this year as part of a series asking triathlon pros for advice to give those just starting in the sport.

With a surname like Hammer, you would think Chris had been a lifelong triathlete, but in fact he came to sport later in life. That makes him a valuable source for hints and tips, because he remembers the days when biking and swimming were awkward and difficult.

Hammer was a collegiate runner, specializing in steeplechase, and never had any intention of becoming a triathlete. After college, Hammer, who was born with one hand, was recruited for the USA paralympic track team. After competing for three years there, he was ready for something new.

"That was when I saw triathlon was going to be contested in the Paralympics for the first time in Rio," Hammer says. "Without any bike background and swim background, I got in contact with USA Triathlon."

"They were kind of intrigued. I went through a training camp to see if this was something I'd want to do," he says. "It was a struggle to be sure, but I stuck with it and made progress every year until I got to the point where I competed in the Rio Paralympics where I got 4th."

Hammer is now number one in the world in his division of Paratriathlon. He also frequently wins local triathlons near his residence in Utah.
Goal setting
Hammer majored in sports psychology in college, and puts a good deal of thought into successful training strategies.
He said the big goal of completing a first triathlon, or perhaps qualifying for the Ironman World Championship in Kona, must be bolstered by both process goals and performance goals.

"You can't just shoot for that dream goal right from the beginning," he says. "You need to build competence and when you do that you build confidence."

"I always say that goal setting is a double edged sword," says Hammer. "Those big goals can be great motivators but they give you no direction whatsoever."
"I'd encourage people to set action plans. Goals are something to help you get out of bed in the morning, to look at that goal. And it's good to tell people your goal because you want someone to hold you accountable."
"But when you get into the drag of midwinter, that's when you need a more specific action plan. With a vague goal, you can say, 'I can take the day off and still achieve that goal.' But when you have an action plan (like one of the training plans available at BeginnerTriathlete.com), you have something specific that you are asking of yourself on a daily basis."
Hammer said he struggled early on with the swim, but he set up tiny, incremental benchmarks to make sure he had small victories, frequently.
"You can always use your time in the pool and set up tests and time trials throughout the course of your training and gauge your progress," he says.
Form and mechanics are more important in the swim than in cycling or running, so creating goals around those and focusing on one skill at a time is critical. Film yourself at regular intervals so you can see your progress. Examples of skills to focus on, one at a time until they improve, are hand entry, early vertical forearm, and stroke rate, Hammer suggested.
"When you're focusing on too many things, you don't get anywhere."
Imagery
Visual reinforcement and mental imagery is a great way to use your mind to reach your goals when your body is tired, said Hammer.
"Essentially just thinking about something, you're neurons are still firing as if you're actually doing it," he says. Having someone taking video of you regularly as you improve at a specific focus area or skills is also valuable.
"When you see yourself doing something successfully it gives you confidence."
Self-Talk
We hear a lot about negative self-talk, but Hammer says positive self-talk is an important tactic in training.
"Self-talk is two fold. When you're telling yourself you're doing something, you're motivating yourself. It can also be instructional," he says."An example of motivational self-talk would just be like, 'You can do this,' 'You've got this,' or 'Be tough,' ... and that's just to help you be more motivated," says Hammer.
"Whereas instructional self-talk would be, 'Keep that cadence up,' 'Run tall,' 'Don't drop your hips," where you're talking to yourself to improve your form or do something more efficiently."

Hammer says the statistics on how many of our daily thoughts are negative is staggering. He says some days he starts the day with a handful of paper clips in one pocket, and each time he detects a negative thought, he moves a paper clip to the other pocket to create awareness about his mental habits.

"Often people don't recognize they have negative thoughts. People don't think they have any control over that," he says.

Hammer says another temptation beginner triathletes face is to disassociate themselves from their bodies and minds, and "check out" during training just to get through it.

"The high performing athletes, they're the ones who associate more closely with their thoughts," Hammer says.

"I think athletes need to not think of it in terms of suffering. It's going to hurt. That doesn't mean you're going to suffer. It's what you're doing to achieve your goal."

"You're choosing to do a sport where you're choosing to push yourself into this discomfort. This is what it is going to be like, and you can accept it and not be afraid to feel that way," he says.
Tips and Inspiration
Hammer says in spite of the vast array of online training software, he continues to use a paper training log that he gets every year for Christmas.
"I don't even know the brand. It's a paper log and it has every single day of the year. I love to go back through the years and look at old workouts and old races," he says.

"Everything uploads automatically to Training Peaks so my coach can see it, but I still write everything down. It gives me the opportunity to reflect personally on what I did well, what I can do better: 'Today I did this well. But I did not do this well.'"

Hammer says the daily reflection emphasizes the long-term nature of triathlon training, which underscores the need for small, specific training goals and a training plan:

"A season is made up of weeks and a week is made up of days and every day counts."
---
This article was produced in partnership with USA Triathlon. USA Triathlon is proud to serve as the National Governing Body for triathlon, as well as duathlon, aquathlon, aquabike, winter triathlon, off-road triathlon and paratriathlon in the United States. Learn more at usatriathlon.org.