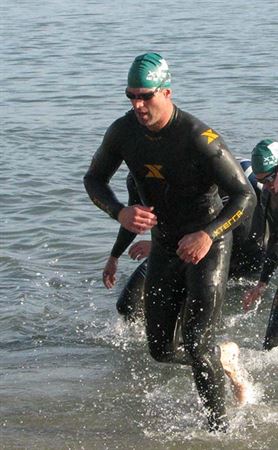 Official BT Coach

8495












Indianapolis, Indiana

Gold member

Subject:
Cycling: Trainer vs Road vs Path - Reposted from Articles
Cycling: Trainer vs Road vs Path

author :
alicefoeller

comments :
0
How I've changed my cycling preferences over the years, and why
I've been riding a bike to train for triathlons for 19 years, and it looks like I've come back to the beginning in my preference for training locations. I decided to take a hard look and where and when I train, and why I've changed those choices over the years.

Every cyclist's circumstances, preferences and cycling infrastructure are different, but it pays to re-evaluate from time to time.

I began my cycling training for my first sprint triathlon by riding on the bike path near where I lived in Chicago's western suburbs. The Prairie Path began in a fairly rough neighborhood, where it was paved but interrupted every block by a stop sign and a road crossing. A bit father out, it changed to crushed limestone and had fewer road crossings. The crushed limestone made for frequent bike washing because of the dust, but it made it easy for other path users to hear a bike coming, and it was fairly skid-resistant.

In addition to riding the Prairie Path, I would also travel to the sites of future races and ride the course on the roads, but that was usually the only time I road in traffic.

I moved to Columbus, Ohio, in 2005, and when I picked up triathlon training again, it was mostly on roads that began in suburbia and quickly became rural. I initially tried training on the bike path near my home, but it was a very popular multi-use trail that wound through trendy neighborhoods. I found the path too choked with dog walkers, unpredictable children, rollerbladers and more to make for efficient training. After eliminating that path (except for commuting) I began riding on roads toward the edge of the city, and heading out on two-lane country roads. I often rode with one or two others, but I trained alone a fair amount, too.

As my income increased and stationary trainers came down in price, I added a magnetic resistance trainer to my options. I only used the trainer on rainy summer mornings, or in the winter. The trainer had a lot of advantages. Although it was annoying to change the tire (or the wheel) to avoid tearing up my outdoor tire on the resistance wheel, I could ride and ride with no interruptions. I felt I was getting an amazing workout. There was no coasting. I could focus on cadence drills or power or heartrate without thinking about traffic or navigation. Videos on TV or Spinervals or music got me through the boredom.

Now I'm 42 and about once a year, a cyclist is killed riding in just the area where I usually ride. More drivers are angry at cyclists. More drivers are distracted. And the areas that used to be "country" around me are quickly being built up with neighborhoods. A ride where I used to encounter one car every five minutes is now a ride where I'm constantly being passed, and sometimes being passed from behind with oncoming traffic, too. Although I have great life insurance, I think my kids would rather have a mom than a payout, so I gradually created more and more rules for myself. At first I started communicating more heavily. I downloaded the RoadID app so my loved ones could track my route and would be alerted if I stopped moving for too long. I wore ID with critical information in case of an emergency. I also stopped riding in the rain, when it's hard for driver's to see cyclists at the edge of their windshields.

Then I decided I would not ride alone on weekdays when the sun is close to the horizon. As a driver, I had noticed how the glare on my windshield (paired with ever-thicker pillars along the sides) made it difficult to see, and I didn't want to put myself at unnecessary risk. So that eliminated early mornings and evenings, which are my favorite times to ride. After talking to several cycling friends who had taken serious spills riding in larger groups (I had also experienced this) I decided to stop riding with large groups of people I don't know very well, or who are not particularly considerate. I enjoy the camaraderie and the aggressiveness improves my performance, but as a business owner, I can't afford an injury that would keep me from working. Trying to find one or two trustworthy cycling buddies who are available when I want to ride (which varies based on my kids' schedules and work meetings) has been nearly impossible.

At this point I had hemmed myself in so thoroughly by my own rules, I realized I could not meet my training goals if I wasn't willing to open things up a bit. Last weekend I woke up early and went for a training ride on the bike path. I have since moved and live near a multi-use path that is not as popular. The path is mostly used by cyclists and a few runners, especially early in the morning. My average speed was 2mph slower than on the roads, since it was harder to get up to speed and maintain it while navigating twists and turns, road crossings and poorly constructed wood-plank bridges that threatened to shake all of the accessories off my bike. However, the ride was peaceful and shady. I saw deer and birds. There were occasional restroom facilities at the parks. And I never felt a spike of adrenaline from a huge pickup truck rushing past me too close.

So nearly 20 years later, I'm back to riding on multi-use trails. Fortunately in my city, those 20 years have allowed for a number of gaps to be closed and paths to be connected to each other, so I can easily ride 20 or 30 miles without backtracking. More people are using earbuds, so I have to be louder and more careful about passing, but otherwise the experience has improved. I also noticed that riding on the trails improved my handling skills by forcing me to be more precise around turns and more watchful of obstacles ahead. Compared to using an indoor trainer, I had the benefit of needing to hold up my helmeted head (neck strength) and feeling all of the demands placed on my body by turns and hills. My smart trainer can simulate hills by increasing resistance, but it's not the same thing as managing how your bike moves under you when you're standing on the pedals going around a curve.

By supplementing with harder, faster workouts on the indoor trainer during the week, and finding a friend who can occasionally workout with me on the roads, I've settled into a solution that works for me.

I've also become intentional about considering new routes, instead of sticking to my old familiar roads. On my last outdoor ride, I noticed fresh markings from an organized ride along the same route I was riding. At one point, the markings pointed off down a road I had never ridden. I turned to follow the arrows and discovered a lovely low-traffic road that went for miles and had pleasantly rolling hills. It was the perfect road, and I'd ridden by it a hundred times without trying it.

I would encourage everyone to occasionally re-evaluate your cycling preferences, and take a look at how trails, bike lanes, indoor trainers and roads have changed since you began training.