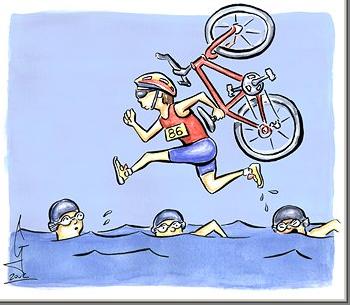 Member


76





Colorado

Subject:
For Sale: 2XU Elite Womens Wetsuit Size Small/Medium
Hi Everyone,

I wore this suit only twice and bought it in August 2007 for $499.00. It is a womens full sleeve
suit and is 2XU top of the line. Size is small/medium and is in perfect, almost new condition. Need to sell because it's big on me and creating drag. Selling for $385.00. Please send me a private message for any questions or interest. Thanks.

2XU Sizing Chart:
Women's U.S. metric
Size Height Range (ft) Weight Range (lbs) Height Range (cm) Weight Range (kg)
Small 4'11" - 5'5" 103 - 125 150 - 165 47 - 57
Small/Med 5'1" - 5'9" 121 - 154 155 - 175 55 - 66
Medium 5'3" - 5'9" 141 - 158 160 - 175 64 - 72
Large 5'5" - 5'11" 150 - 176 165 - 180 68 - 80

2XU Elite Wetsuit Advertised As Follows:
2XU (pronounced "2 times u") Triathlon Wetsuits are Here!!! Check out the features offered by 2XU in their triathlon wetsuits below.

Roll Bar The 2XU Wetsuits sport an industry first Roll Bar region to improve the buoyancy in the core of the wetsuit. Better body position is delivered through maintained buoyancy when the body rolls off the front panel.

Underarm/Lateral PanelThe main factor for underarm material selection is flexibility. The underarm is a key panel which dictates the degree of shoulder and arm movement, releasing the swimming stroke action, allowing a complete extension along the latissimus dorsi. Both the neoprene and inner lining materials have been selected for maximum flexibility 520% Stretch Neoprene with 4 way stretch. This is in turn complemented by the highly flexible hollow polyester fiber lining. The high stretch hollow polyester jersey inner lining of underarm, and shoulder panels of the 2XU swimsuit maintain flexibility and reduce weight. Our polyester lining in the important flexibility zones is 4% more flexible than the nylon alternatives.

LegsThe upper legs region of seamless front panel) are serviced by the most buoyant neoprene available - Nano SCS 5mm 39 cell neoprene. The lower legs have a reduced 3mm panel structure to help with the run up the beach, remove the wetsuit with more ease. Adjustable length leg to customize fit for your kicking style. Trim the leg length back to reduce buoyancy and lower your feet for more kick power. Quick Release leg cut for faster suit removal.

Back Panels (Main Lateral and Lower Back)2XU has engineered a back panel structure which is strong enough to contain the rigid zip, withstanding the punishment of constant use, but more importantly flexible enough to interact with the underarm panel, and allow the zip to float with body movement. This is achieved by the one piece floating zip panel, no seams so less restriction.

Seat and Crotch PanelsThese two panels are all about maximising buoyancy, while having an anatomical fitting shape so water does not gather in this region. An in ill fitted suit will allow the back up of water and increase in weight. 2XU has used 39 cell SCS neoprene for maximum buoyancy allowed, and has also utilised a backing which will hold its shape and support in a region where most of the power in the stroke can come from. In utilizing materials which compress the muscles in the buttock and higher leg greater muscle stability reduces fatigue and allows the muscle to be primed for greater power output.

Shoulder (and Exterior Arm) PanelThe 2XU Elite wetsuit has one seamless panel running from the neck to the wrist. No seams translates to more flexibility through the shoulder and elbow region. Utilising hyper flexible yet buoyant 2mm 39 cell rubber with hydrophobic Polyester backing, the 2XU shoulder panel absorbs less water when the suit is submerged, with maximum stretch.

Forearm Grip Panel The rough capsule texture on the anterior forearm (rather than the smooth SCS coating we have on the other panels) grips the water and enhances the power of your catch with a better purchase of the water. This mesh panel anchors the arm so the body can effectively flow through and past the planted forearm, enhancing your ability to pull yourself through the water.

Invisible ZipThe 2XU zip is manufactured from reliable light and strong material, positioned behind the back panel lapels to reduce water intake and streamline for speed.