2008-07-31 9:46 AM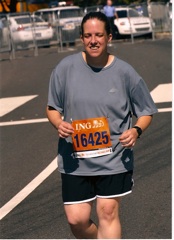 Expert


1288








Hatboro, PA

Subject:
Anyone train with arthritis
I have severe post-traumatic arthritis in my right ankle. I always have some level of achy pain, but recently (with training for a November marathon) my ankle is getting worse. I have an appointment scheduled for next week with a sports medicine doctor. (I decided against returning to see my podiatric surgeon, as he didn't have any options for me the last time I saw him.)

I was just wondering if anyone else trains regularly through the pain of arthritis. If you do, how do you deal with the pain? I am really concerned that I am going to be told that I can't run anymore, since the pain always gets worse with increases in running.

2008-08-01 6:53 AM

2008-09-17 6:49 PM