2008-12-19 9:49 PM

Expert


608




St. Louis

Subject:
Junior National Races / Rate me
Does anybody know of any races that are part of USAT junior champoinship series. I lived in St. louis so hopefully there somewhere near me but all I can find is the Junior elite national championship that was in Colorado springs. So, two questions (1) Do you know of any races (draft or non-draft format)?. (2) How would you compare me to them?
----------------------------------------------------------------------------------------------------
My race, 500yd swim, 17 mile bike, 5k
11:36min - 2:30 T1 - 53:06min - 1:36T2 - 23:07min
>>>>> Total time 1:31:57 (Fastest time at race >> 1:14.)
-------------------------------------------------------------------------------------------------
Junior Elites: 750m swim, 20K bike (12.43miles), 5K run Winner Below
Total Time -57:05 with 9:53 swim, 53secT1, 29:20 bike, 27secT2, 16:34run
-----------------------------------------------------------------------------------------------------------
Now, I know that I am not as good as them as the race above, was only my second race but it seems to me that I am not way to far behind him. However, one thing that I am unsure about are the running times for the junior elite people. The fastest time was a 15:42. Now, he might be great but that time would have given him the MO state XC title (and that was after swimming and biking). Now I have already dropped some time off of this. Here are my open times. Beware, that my swim race split was slow; I had swam 3 times in the last two years prior to the race. Open times below.
500yd Swim ------- 20k Bike ------- 5k Run
8:30min (about 37min) 18:20
I have dropped 3min in the last 3weeks of swimming (check my logs-swim focused), The bike is a guess but I'm sure I can do it right now(no draft). Faster time with training. And I have the right gear now so I no that I can drop my transistion times to about the same as the winner of the junior elite race. Also, there is one more discrepancy, the junior elite race was draft legal while the race I was in was not. That alone may add 1-2mph and put me even closer to the time.
--------------------------------------------------------------------------------------------------------
What's your take? and do you know of any races once again?
Thanks for reading in advance, any advice is good advice.
My mom does not want to travel if I wuold not even compete in the race. Here a link to the results (junior elite mens is page 4)
http://assets.teamusa.org/assets/documents/attached_file/filename/2319/Elite_Results.pdf
Edited by xcrunner2010 2008-12-19 9:51 PM

tjfry

2008-12-19 10:45 PM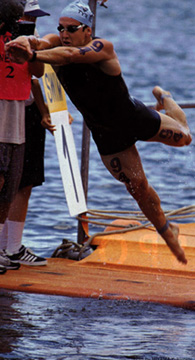 Expert


2547





The Woodlands, TX

Subject:
RE: Junior National Races / Rate me
As a former Junior National Team member(many years ago), It looks like you're heading in the right direction. If you're interested in competing at the national level as a junior, especially in draft legal races, then here are some things you need to focus on:

1st and foremost you need to get your swim fast enough that you can get out of the water with the main pack. In draft legal races there are usually a few key moves that are made very early in the race. If you aren't around to react to those moves, then your day is done. Now, this doesn't mean that you need to be leading out of the water, but since these guys are faster than you right now, you need to train like you want to be first out. Start making your typical swim workout at least 3000 yards. You should also look into joining a swim team.

If you take history as a lesson, take a look at the development of people like Hunter Kemper, Doug Friman, Nick Radkewich, and a number of others who were great juniors who went on to solid pro careers. In high school these guys ran cross country AND swam on a team. Hunter primarily swam down in florida through high school, then gave it up to walk on for cross country at Wake Forest. Why? He knew he needed both to be solid for tri's.

Look at those results and take a look at how many 10-11 min swimmers also have a roughly 30 minute bike. It's because that's the pack. That's where the race went down. This means that you MUST get out of the water with these guys if you want to mix it up.

Bike: Don't let the word "draft" fool you. It can be some of the most brutal racing you will ever experience. Typically the first few miles will be where all the action is. The cyclists will be trying to weed out the field of weaker cyclists/stronger runners. This is also where a lot of crashes happen. I would recommend hooking up with a local cycling club and get them to teach you criterium racing so you will feel more comfortable in this environment.

After the shake down, life usually settles down in the pack in anticipation for that run. The pace will ease up, and it gives you a chance to catch your breathe. The last part is simple. Run like crazy. If you are running with a cc/track team, then I would leave that piece alone.

The best advice I can give is go enter one of these races as a learning experience. Be prepared to get your doors blown off. It will likely happen, not b/c you aren't as strong, but b/c this format takes a lot of getting used to. Once you understand all the differences, then it's just a matter of making those changes in your training.

Above all don't get discouraged. I spent a good bit of time with Sam Sutherland (14th in that race) over the years as he was getting into this and it doesn't happen overnight. But it will if you stick with all that work. Sam has been able to see the world because he got so good at these races.

As to where these races take place, I don't have a clue. The USA Triathlon website should have the schedule, but if not, grab the phone and call them. They will put you in touch with whoever heads this up and will probably be able to send you some great training advice.

Dang that was a long response!! Sorry about that.

Hope this helps and best of luck.

TJ

2008-12-19 11:24 PM

Expert


608




St. Louis

Subject:
RE: Junior National Races / Rate me
Thanks, a lot, you told me the same thing I told my mom, "If I don't get my 500 time down to low 7min then I won't stand a chance". As for Criterium racing, along with my tri team I am joing for next season, I am on a Junior Cycling team and will be a Cat 4 next season, so I do have experience with Road Racing.
We were going to call the guy from USAT midwest but there's only an email address but that for tomorrow.
However, you did not address the great times on the run. 15:42 That's just smoking. It seems that they could have shortened the course.
Master


2460









Subject:
RE: Junior National Races / Rate me
No junior elite here (not even close!) but just looking at the run alone - 18:30's a smoking fast time for any junior (great job!), but 15-16min 5ks is not just one league away, but 2-3 leagues of difference there. Most guys who have the genetic ability run those 15min 5ks could go 17s with minimal training to begin with (<30mpw). Average joe guys like myself can run low 18:00s (my PR) or even 17:xx with a LOT of running (>70mpw), but can only dream of 15s. You have potential though, if you're hitting 18:30s as a junior!

2008-12-20 10:37 AM

Expert


608




St. Louis

Subject:
RE: Junior National Races / Rate me
That was the winner, but would I be in there closer to the BOP.

Champion


9407









Montague Gold Mines, Nova Scotia

Subject:
RE: Junior National Races / Rate me
As I've said before, you really need to learn how to swim. An 8:30 500m would put you at 12:45 out of the water which means that the packs are gone. You need to work to get your 500m into the 6-6:30 range in order to get out of the water with other athletes to ride in the pack. Also, IME, it is common for junior elite races to be wetsuit illegal (the allowed temperature ranges are different than other races) so bear that in mind as well.
The road racing should serve you well; you need to be able to respond to attacks, accelerate back to speed out of corners and ensure that you do not get dropped. Like in crit racing, in an elite race they will normally pull you from the course so that adds a dimension as well. Unless you are out with a pack, it is unlikely you will be able to ride as fast a the pack so your goal ends up being just trying to stay clear of the riders behind you. That would probably be why you see several athletes with a T1 time but no bike time as they got lapped and pulled. Also, occasionally some athletes do not even get on the bike as the pack already has one lap completed when the exit the water.
In order to complete a junior elite race, I would expect a male to be able to do the following standalone:
500m swim - under 7:00
20km bike solo - 35:00
run doesn't really matter as if you can hit the other two you will at least be able to finish
In order to compete in a junior elite race, I would expect:
500m swim - under 6:00
20km bike solo - 32:30
5km run - under 17:30
That would give an athlete a chance to find and hang with a pack and get off and run close to the lead.
Good luck,
Shane

2008-12-20 3:45 PM

Expert


608




St. Louis

Subject:
RE: Junior National Races / Rate me
In three weeks dropped 500yd time from 11:00 to 8:30. Hopefully in 3 months I'll be able to drop another 1:45. Might be able to hit the 32:30 time after a month of hard riding (Holiday Break and January). The run will be tough though. Thanks for all the input.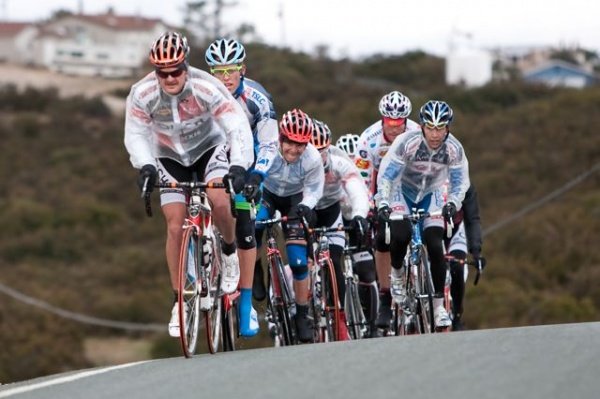 Extreme Veteran


360







Camarillo, California

Subject:
RE: Junior National Races / Rate me
If you want to win any major junior elite races you need to be doing a 750yd swim in about 8-9 minutes, the 20k bike in 32-33 min, and a 5k run in about 15:50-16:30ish in a triathlon.
Its really all about the swim, if you are 30 seconds behind the leaders out of the water then your race is done. The bike isn't so important just because nobody really works too hard, then the run is obviously where the race is won.
At junior worlds in 2005 Steven Duplinsky won the race, and he ran a 15:10 5k off the bike. There are juniors running in the low 15's for a 5k.
Edited by gocorey 2008-12-20 5:18 PM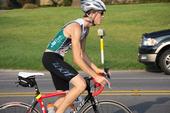 Veteran


298







Rockwall, Texas

Subject:
RE: Junior National Races / Rate me
how the heck do you get 5k times in the 15s!!?!?!? or even in the 18s? i could actually compete in my xcountry district if i ran those times. geez! i wanna run that fast!i'm kinda in the same boat. i would lovato do junior elite races but dont know where or anything. i'm very keyed in for this thread.
sorry if it seems like i hijacked the thread. didn't want that.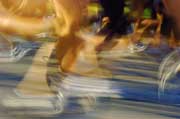 Champion


7233







Subject:
RE: Junior National Races / Rate me
you run alot, consistently, over a long period of time.