2009-07-24 7:09 PM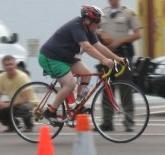 Regular


74




Cambridge, MA

Subject:
Question for the ladies
My first (sprint) triathlon is this weekend and I've been training and working through some bricks and such, but still have questions on what to wear. I'm a big girl and don't feel comfortable wearing tri shorts or bike shorts without something covering a little. I've tried transitions involving various clothing options. I won't be using a wetsuit because it won't be necessary and mine is still a bit too tight.

So, for my question...
Is it an option to bike and run in my swimsuit? I'm concerned about chaffing. I've also given consideration to wearing bike shorts (to absorb some moisture from the suit and my activity) over my suit...I'm sure it will look rediculous, but doable. The same with running...mostly to avoid fat giggle-age. lol.

Any advice?

2009-07-24 7:48 PM

2009-07-24 7:51 PM