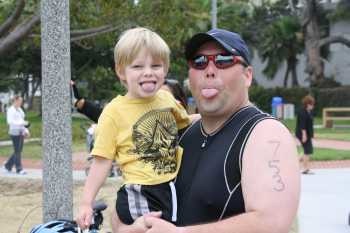 Veteran


513



Subject:
Quick question and recommendation
Okay, so my wife and I are both overweight. I have decided to do the Redondo Beach Tri when it comes up in June. We also are looking to have another child at some point however I am concerned that my wife's weight could lead to complications in her pregnancy (no she is not pregnant yet).Would it be wrong for me to challenge her to complete the same race. We both swam in high school, and the only difficult part for both of us would be the run. I have tried ways to get her more active and thought that if she had someone to "compete" with then it could serve as a form of motivation. I love my wife a lot, and do not want her to see this as me saying "Hey Fatso" because I am the last one to talk about that. I am just looking for her to develop a healthier more active life for herself, our family, and child (or children in the future). Ladies, I would really love your help here on this one. Thanks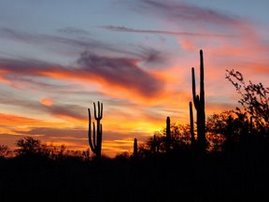 Expert


843







Gilbert

Subject:
RE: Quick question and recommendation
I think you just have to pitch it correctly.

"Hey honey, I'm thinking about doing this triathlon. Maybe this is something we can do together. It would be a lot more fun for me to train if I had you by my side."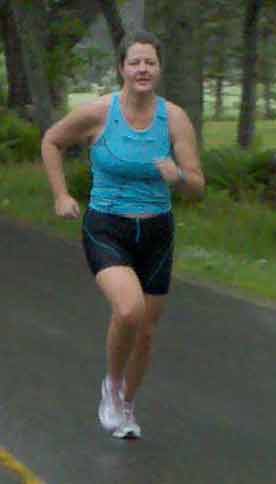 Master


1736







Midcoast Maine

Subject:
RE: Quick question and recommendation
I agree with the previous poster - please note that not all women are competitive, so hoping that having someone to compete with would motivate her may backfire...I would totally pitch it as a way to spend time together.

Good luck! You are setting a GREAT example for your kids.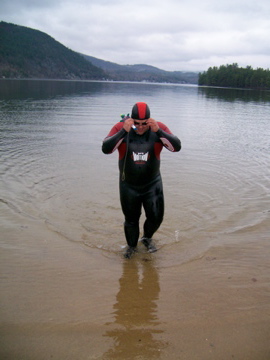 Expert


773







Alexandria, NH

Subject:
RE: Quick question and recommendation
My wife and I are in a different scenario where she's not overweight and I'm a hippo (tm). Additionaly she's not remotely competitive (which can be an asset). If we go for bike rides and I drop her she's going to be super pissed so I have to focus on not making activity into competition. That is probably your issue too. If I beat my wife in a race to the fridge did I win anything? Nope, but if I get her to come for a long walk then we both win.

If you get the book from Jayne Williams http://www.slowfattriathlete.com/ that might be a good start to get in the right frame of mind. There is entirely too much focus on "competition" in triathlon when in fact 90+% the athletes are participating. Podium spots are limited to three and EVERYONE else get's a finishers medal. So don't focus on time focus on distance and you'll be fine.

When you start to train you'll absolutely need the support of your wife as training starts to suck up more time than most people would prefer. A long slow bike ride will benefit you far more than fast and short. If she's there with you it will 1000% better than if she's asking when you'll be back. Trust me I speak from experience.

Don't make it anything it doesn't have to be. Skip the spandex, carbon fiber and gels and just start on your path to the race. Things will come and people wil be here for advice when you need it. Low and slow is how you start. Don't increase too fast otherwise you'll end up hurt and on the couch.

DJS

2009-10-15 3:16 PM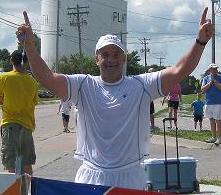 Veteran


294







Papillion, NE

Subject:
RE: Quick question and recommendation
All good posts above. I would also add that you talk about the health benefits of getting in shape. Because yes, not everyone may want or be driven by the competition.

My wife could stand to lose some weight also, and she knows/admits it. But she knows(from me reminding her) that it is inevitably up to her to do it and get started. I will support her all the way. I have been competing in other sports for over 10yrs. now, eat a very strict diet, etc., so she sees me living the "lifestyle" of healthy, active living, and I think that helps too.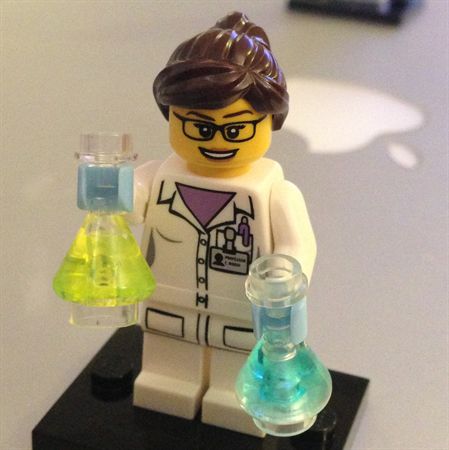 Science Nerd


28760














Redwood City, California

Subject:
RE: Quick question and recommendation
I wouldn't pitch it as "competing" as much as something you can do together. It might turn competitive, but it doesn't have to be. It's very nice to be able to encourage each other and support each other.

My husband and I were training for a marathon together. It's a little competitive, but mostly we do it together and support each other through all the long training runs. At some of the 5ks we've done for training, we were competitive and that was a lot of fun, but that's not the ultimate goal.

However, make sure this is something that she really wants to do. It's taken 4 years of me training before I could get my husband to go along with it.

Good luck!!