bzep

2010-05-14 8:19 PM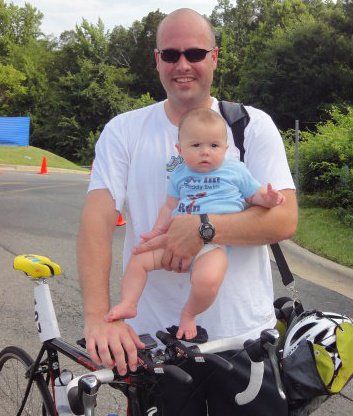 Regular


71




Charlotte

Subject:
Bike Baby Carrier
Anyone recommend one that they like? I know it sounds crazy, but would like to enjoy riding with the little one on the back. Money doesnt matter I want the absolute best there is as far as safety goes. Thanks!!
Expert


950









Ann Arbor

Subject:
RE: Bike Baby Carrier
Are you looking for one that mounts to the seatpost or a trailer?

bzep

2010-05-14 8:34 PM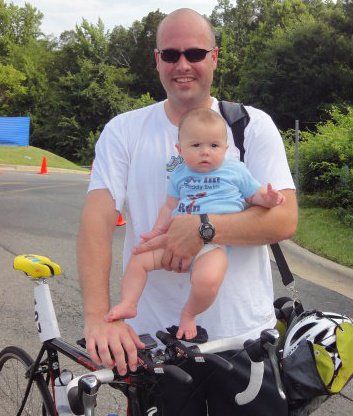 Regular


71




Charlotte

Subject:
RE: Bike Baby Carrier
I was hoping for the seatpost kind, I dont really like the trailer option. Thanks
Veteran


216




Griswold, Connecticut

Subject:
RE: Bike Baby Carrier
I started some light biking with my son when he was 3.
I used a seatpost mount option at first (on a heavier MTB), but really didn't like it because it was hard to mount the bike and the kids moving around shifts the weight of the bike making it unstable. I never rode a road bike with it, but can only imagine it would be significantly worse for stability. As the kids get older it is easier to teach them to sit still, but you are adding even more weight on the back of the bike.
So I got rid of the seatpost mount and we bought a Chariot Cougar:
http://www.chariotcarriers.com/english/html/cougar.php
I can't say enough good things about it. We use it for biking, running, hiking, etc. I got a 2 seater and was using it when our daughter was an infant (they make an infant sling specifically for this). Frequently my 4 year old will fall asleep while riding in it. The kids can take a snack or stuffed animal and enjoy the ride. Last fall I used it to take my son (6 years old) to soccer practice 8 miles away. He still enjoyed riding in it.
With another baby arriving next week, it will start getting a lot more use again.
It's more expensive, but the quality is great.
Edited by sawfish99 2010-05-15 7:15 AM


Expert


2555






Colorado Springs, Colorado

Subject:
RE: Bike Baby Carrier
When my son was little I used a rack and child seat combination I bought from Performance Bike. Essentially a bike rack is attached to the rear, then the seat attaches to it. The seat can easily be removed when stopping and will rest on a flat surface so the child can sit in it. There were many times when my son would fall asleep during a ride, I would stop and remove the seat and he slept while I took a break, then put the seat back on and continue riding. The system was very secure and my son enjoyed his riding time. The seat could also be moved to another bike that had a rack on it so I had racks on three different bikes.

I also used a Burley trailer when he got older and too big for the seat.

Make sure to get a seat that will completely contain the child without any body parts sticking out. This is much safer in the event of a crash as the seat will take the impact. Some cheap seats have the child's head exposed above the seat back and that would be a severe danger in a crash or even if the bike fell over.

Have fun!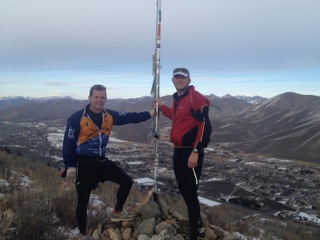 Pro


4909









Hailey, ID

Subject:
RE: Bike Baby Carrier
Another recommendation for the Chariot trailer. Good times.

Veteran


237





WA

Subject:
RE: Bike Baby Carrier
I always used a trailer. I feel it is much safer. If anything happens on the bike it is a long way to fall from one of those rack carriers. There are no balance issues with the trailers and they don't hurt even your nice bike to tow, I did a lot of training rides pulling my daughter in one. She rode in it until she was 31/2 or 4 then we switched her up to a trail a bike.